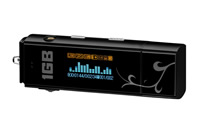 Jens of Sweden has unveiled its latest cool digital music player which they reckon will give iPod Shuffle a run for its money.
The midnight black, cigarette lighter-sized MP-120 music player can squeeze in 300 tracks (depending on track compression) and a features a USB 2.0 port.
It is available for SEK 1344 including VAT (US$194/£102/€148), which the cheeky Jens claims will undercut the iPod Shuffle by a massive one krona (£0.07/US$0.14/€0.11).
"Steve Jobs claims users prefer to be served random tracks than choose from among hundreds of their own tunes. We don't agree which is why we offer a player, that besides random tracks, also allows users to see and choose exactly what they want to hear. Given today's prices I'm convinced we can sell more MP-120 than iPod Shuffle in Sweden, despite Apple's advertising budget," says Jens of Sweden chief executive and founder Jens Nylander.
We admit we're fans of Jens. We used to have a Jens MP-130 which we dearly loved – using it to listen to music, carry data and record interviews with broadcast-quality clarity. Everyone we showed it to was wowed by it and we would in turn enthuse about it at every opportunity. How many products can you say that about?
Then some low-life nicked it when we were at the AtHome conference in Nice at the end of last year. It broke our hearts. If this player is anything like as good as our dear MP-130, it's going to be a contender.
The iPod shuffle has a fundamental weakness that Apple tried to turn around as a benefit. It has no display. In our experience, when you're randomly listening to selection of tracks from a large music collection or a collection of podcasts, you want to know the name of the tracks you like and the ones you hate. The MP-120 has a display.
Jens of Sweden's earlier MP-400 player was offered in seven colours – as well as 24-carat gold – and with the MP-120 model, it is taking customisation one step further by allowing customers to choose their own headphones.
The MP-120 can function as USB file storage memory, and also has an OLED screen and dictaphone.
It supports MP3, WMA, ASF, OGG Vorbis music files, and the built-in lithium battery should give users about 22 hours' playing time.
While we don't think Steve Jobs will be losing sleep over this, we think this will have a ready market with those who don't want to conform to the Apple mentality.
The MP-120 is now available on Jens of Sweden's Web site.