Guy Giles gives us an update on how the DigiTV project is coming along. DigiTV assists Local Authorities to understand, launch and run citizen-focused services on digital TV and mobile phones.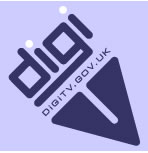 2007 has started at quite a pace for DigiTV. We have seen unprecedented growth in usage traffic following the introduction of a new job search plugin from Job Centre Plus.
This can be used by any organisation signing up to using the Starter Kit and is proving to be a service which really does drive repeat traffic. Given the audience for an interactive television service (primarily C2, D & E) this is providing a service driven by genuine need from people who often do not have routine access to a PC at home.
In a recent piece of research, one of the users of the system sent in a request for a council form. When followed up she explained that she was awake in the middle of the night supporting her autistic son. She needed to contact the council but without a PC or PC skills to call on – she turned to the television for service.
Digital television is really proving to be a platform that is reaching an audience that has been left out of the digital loop for too long.
Another new development sees Wychavon's choice-based lettings service go live via the DigiTV Starter Kit. Wychavon undertook some research to see where and when the traffic arrived on their Web-based service each week. It turned out that parents were having to ask their children to login at school to enable them to bid for the property of their choice. Parents did not have the benefit of having a PC at home so had to rely on their children. By making this service available on TV – it really does open up the service to all and start to address the very real social and economic disadvantages that come with digital exclusion.
This month we are pleased to bring two new London local authorities on board. Both Islington and Kensington & Chelsea have signed up for the service and will see their sites go live before the end of March.
They have both opted for the 'bureau' service which sees the DigiTV team build their sites for them based on a set of templated services/interactions that are available. Its great to see more of London engaging with this service given the high takeup of digital television in the capital.
Finally, its worth keeping in mind the pace of change in the UK television market. All platforms are going to being using broadband to deliver a wide range of additional interactive and on-demand services and people from all walks of life will increasingly expect to use any 'screen' in their home to access these. We encourage all Local Authorities that now is the time to engage with this to ensure that they meet expectations in the future whilst ensuring that they provide a service now to the digitally excluded and socially disadvantaged.