Following on from Daniel's opening piece on Picnic06 on Monday, we conclude today.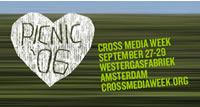 I was really looking forward to John Thackara's talk entitled "Global issues demand creative leadership" but it was skipped and he went pretty much straight into chairing the "The creative business leaders debate". He did mention that he's usually the one to ask "why" are we doing all this [technology innovation], asking what will it be used for and is that so good anyway? But then he ignored those questions completely and followed a more boring corporate line.
Overall, there did seem to be a lack of social comment. There was much more focus on 'business needs to get investment and customers' rather than benefits to society – call me old fashioned but we need to ask more 'why' and 'what for' questions.
Yet again there seemed to be an inverse relationship between the size of the company and the content of the presentation. MTV, Google, World Directories failed to inspire beyond a little spark here or there. Too much reliance on videos within a presentation didn't help. And, of course, they can't tell us anything new as they'd blow their competitive advantage.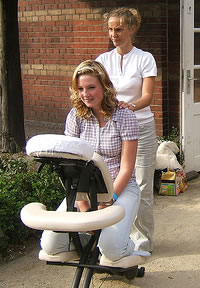 To be fair I didn't see all the keynotes nor attend all the workshops. It was simply not possible. It was a very full programme. I was a bit of a conference butterfly, catching a bit here and there, putting my oar in when I could and, of course, couldn't pass up that free massage.
The production was slick and impressive. But more could have been done to inspire and challenge us; more focus and discussion on issues and less corporate plugs. Perhaps the real benefit of this event was the networking, which there was plenty of. This was an ambitious event and I'd say that, on the whole, the team at Cross Media Week pulled it off.
Incidentally, I found my accommodation (a room in a shared flat 5 minutes cycle from PICNIC) on craigslist – so it works for something. A bicycle came with the deal. Cycling around Amsterdam is always fun. Everything is so close. And sitting outside, by a canal, having a quality meal, one may ask what else is there to life?