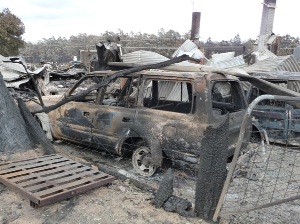 Here we go, banging on about Twitter again.
We came across another interesting use of Twitter – one that is usurping the mainstream media again.
You'll be aware of the shocking fire that have been raging in Australia.
Mainstream media has had some video footage, but as happened with the plane crashing into the Hudson, individuals are taking some amazing photo of what's been left after the fire has gone.
coliwilso got out and about and snapped shots of many of the cars that had been abandoned as people fled.
With shots this interesting around, you can see why Scoopts was killed by Twitter.
Check out our other Twiitter stories.
Photo: coliwilso