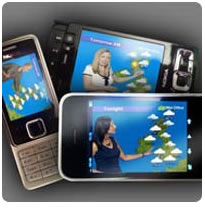 The Met Office, well-know weather forecasters, are to offer a world's first – a free-of-charge (beyond any of your own mobile data charges), video on-demand weather service to your mobile phone.
Access will be via a branded portal (lovely to hear that phrase again :) ), giving access to weather forecasts that will be updated several times a day – currently the mobile site is saying it's three times a
day.
The content will be shot at the Met's new television studio in Millbank, London and Gorillabox will handle the ingestion, encoding and deploying of the video content. Very wisely they're also going to be handling the advertising side, making them next to the money that will pay for the service.
People might have a gripe as to how accurate weather forecasts are generally, but it's beyond doubt that the Met Office is the most respected provider.
To get access to the content, simply text MET to 68008 or type in the address http://metofficemobile.mobi.
Lucky that they've provided the short code as the URL is a bit of a pain to type on a mobile handset.