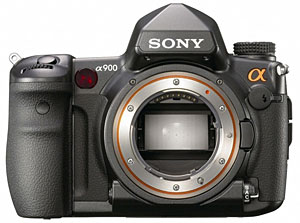 Vast reservoirs of drool have started to form around the desks of photographers in Chez Digi-Lifestyles after the full details of Sony's flagship new Alpha 900 digital SLR were released.
Sporting a full frame Exmor CMOS sensor offering an outrageously huge resolution of 24.6 megapixels, the A900 comes with dual BIONZ image processors, ISO sensitivity soaring up to the giddy heights of 6400, a 3.0-inch Xtra Fine LCD and nippy full resolution 5fps shooting.
The 24.MP full frame resolution is a world first, with Sony promising, "extraordinary image detail and wide dynamic range," while the ground-glass optical pentaprism viewfinder offers 100% coverage.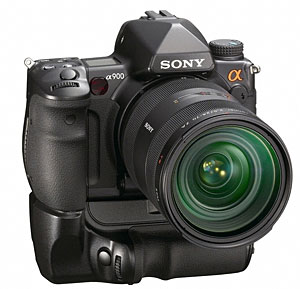 There's also in-body optical image stabilisation courtesy of SteadyShot INSIDE technology, providing "up to 4.0 steps anti-shake performance with Alpha lenses," backed by Sony's high-accuracy 9-point AF with 10 focus assist points.
A new Intelligent Preview function lets snappers fanny about with White Balance, D Range Optimiser and exposure level settings on the LCD screen without actually taking a picture, making it easy to pre-set exposure options before taking a photo.
Images can be saved on the Memory Stick Duo/Compact Flash Dual slot and the camera can be hooked up to a HD television, with a 'PhotoTV HD' mode providing optimised still image viewing.
In line with its pro aspirations, the camera comes with a full complement of dust and moisture by rubber seals, with a built in anti-dust system helping keep dust off the sensor when lens are being changed.
Sony has also created some new lens with Carl Zeiss glass to coincide with the A900's launch, including a 70-400mm F4-5.6 G SSM telephoto and a Vario-Sonnar T 16-35mm F2.8 lens.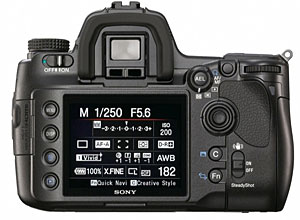 The Alpha 900 SLR will be available from October 2008, with the lens following in early 2009. Pricing has yet to be announced, but we'd imagine that only those with the deepest pockets need apply.
DSLR-A900 technical specifications
Camera type: Digital SLR camera with interchangeable lenses
Lens mount: Sony a mount, compatible with Minolta A-type bayonet mount
Lens Compatibility: Sonya Lens and Konica Minolta a/MAXXUM/DYNAX Lens
Image Sensor Type: "Exmor" CMOS Image Sensor
Image Sensor Size: 35.9 X 24.0mm
Effective Pixel Number: 24,610K pixels
Anti-Dust: Charge protection coating on Low-Pass Filter and Image Sensor-Shift mechanism
Recording media: Memory Stick Duo,Memory Stick PRO Duo,Memory Stick PRO-HG Duo, Compact Flash Type I, Type II (Microdrive),UDMA(Mode5) compliant
Media slot: Memory Stick Duo/Compact Flash Dual slot
Image format: JPEG,RAW(ARW2.1 Format),RAW+JPEG
D-RangeOptimizer: off,Standard/ Advanced: Auto/Advanced: Level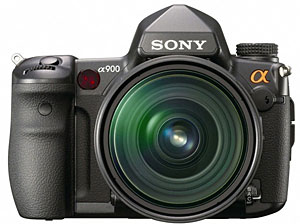 Image stabislisation: On system image Sensor-Shift mechanism
Noise reduction: On/Off, available at shutter speeds longer than 1 second, High/Normal/Low/Off, available at the ISO set to 1600 or above
Auto Focus system: TTL phase-detection system, CCD line sensors, 9 points + 10 assist focus points
ISO sensivity: ISO 200 3200 equivalent, ISO numbers up from ISO100 to ISO6400 can be set as expanded ISO range.
Flash system: External, Wireless control with HVL-F58AM, ADI flash / Pre-flash TTL metering
Shutter: Electronically-controlled, vertical-traverse, focal-plane type
1/8000 second 30 seconds speed range, bulb
Continuous-advance rate: Hi: Approx.5 frames per second at maximum, Lo: Approx.3 frames per second
LCD Monitor: 7.5 cm(3.0″), TFT Xtra Fine, 921 600(640×3(RGB)x480) dots
Battery type: InfoLitium NP-FM500H,7.2V
Battery life: Approx. 880 shots (CIPA measurement)
Dimensions: Approx.156 x 117 x 82mm(6 1/8 x 4 5/8 x 3 1/4 inches)
Weight: Approx. 850g (1 lb 14 oz)