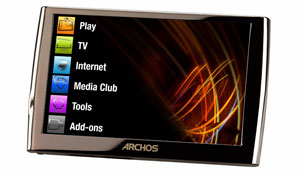 About to start shipping is the new Archos 5 Internet Media Tablet, a rather snazzy multimedia gizmo offering mobile web surfing, MP3 and video playback and optional TV recording.
The flagship of Archos's range, the media tablet comes with a generous 5″ touch screen sporting a 800 x 480-pixels resolution, and packs integrated 802.11b/g WiFi, Opera Web browser with Flash 9 support and up to 12 hours of audio playback time, and 4 hours of video playback.
There's also a full email application (compatible with POP/IMAP) onboard which lets users read, write, download and send attachments, and manage contacts.
When it comes to multimedia playback, this fella can play just about anything you care to chuck at it, with support for a vast array of audio and video playback codecs, including HD at 720p. There's also a 3.5G HSDPA version is expected in December 2008.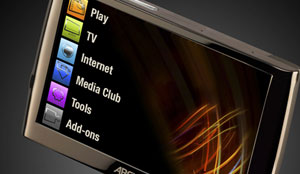 With the optional £80 DVR Station, users can also schedule recordings from their set top boxes or cable channels and play them back on their home TV at up to HD quality.
The Archos comes in several flavours of hard drive, with 60GB, 120GB, and 250GB models, the largest being capable of storing up to 300 movies, which should see you through even the slowest Northern Line journey.
A quick peek on their web site shows that the 60GB hard drive can be picked up for £279 and the 120GB model for £320, while the top of the range 250GB job will knock you back a not-insubstantial £360.
Specifications
Capacity
60GB hard drive – stores up to 80 movies, 600,000 photos or 30,000 songs
120GB hard drive – stores up to 160 movies, 1.2 million photos or 60,000 songs
250GB hard drive – stores up to 300 movies, 2.5 million photos or 145,000 songs
Display
High resolution screen, 800×480 pixels, 4.8″ TFT LCD, 16 million colors
Touch screen, Video playback
MPEG-48 (ASP@L5 AVI, up to DVD resolution)
WMV (MP@ML, up to DVD resolution) including WMV protected files
M-JPEG (Motion JPEG Video) in QVGA resolution
With optional plug-in (downloadable from your tablet or on www.archos.com):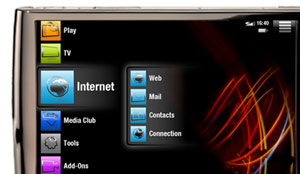 HiDef: MPEG-4 (ASP 720p) & WMV HD (MP 720p)
Video podcast: H.264 up to DVD resolution with AAC
Cinema: MPEG-2 MP@ML up to 10 Mbps (up to DVD resolution) and AC3 stereo sound (5.1)
Audio Playback
Stereo MP3 decoding @ 30-320 Kbits/s CBR & VBR, WMA, Protected WMA, WMA pro 5.1, WAV (PCM/ADPCM).
With optional software plug-ins (downloadable from your tablet or on www.archos.com):
AAC9, AAC+ stereo audio files
AC3 stereo audio and 5.1 sound files (via SPDIF output of DVR Station)
Photo viewer
JPEG, BMP, PNG, GIF
PDF viewer
Reads PDF documents (may not implement all PDF features)
Video Recording
Via the optional DVR Station or DVR Snap-on. Records NTSC/PAL/SECAM in MPEG-4 AVI format with stereo sound, VGA resolution (640 x 480) @ 30 or 25 f/s
Audio recording
Via the optional DVR Station or DVR Snap-on: Stereo line-in, WAV (IMA ADPCM or PCM) format
Voice recording via the optional FM remote and its built-in microphone in WAV format (IMA ADPCM)
Email client
Compatible with email accounts supporting POP3 and IMAP services
Import/export of vCard contacts
Interfaces
USB 2.0 High-Speed Device (compatible USB 1.1 at a lower speed): Mass Storage Class (MSC) and Media Transport Protocol (MTP)
USB 2.0 Host: Mass Storage Class (MSC) and Picture Transfer Protocol (PTP) with optional Mini Dock, Battery Dock and DVR station
Connections
WiFi (802.11 b/g) connection. Free Web Browser (Opera Web browser with Adobe Flash 9 video support) upon registration
3.5 mm mini jack for headphones
Add-on connectors to connect to the DVR Station and other ARCHOS add-ons
Miscellaneous
Built-in speaker
Built-in leg stand
Power source
Internal: Lithium Polymer battery
Device charges via computer USB port
External: Power adapter/charger (via optional add-on)
Battery life
Music playback time: up to 12 hours12 TBC
Video playback time: up to 4 hours12 TBC
Scalability
Device automatically downloads latest firmware updates when the WiFi connection is activated
Updates can also be downloaded at www.archos.com
Dimensions & weight
Approx 127,5 x 78,3 x 12,9 mm (for 60GB model) – 250gr
Approx 127 x 78,8 x 19,4 mm (for 120/250GB models) – 300gr TBC
Minimum requirement system
Microsoft Windows® Vista, XP, ME, 2000 or higher
MAC OS X and Linux (with Mass Storage Device Support)
USB 2.0 interface
Package includes
ARCHOS 5, headphones, ARCHOS USB cable, DVR Station adapter, screen cleaning cloth, Quick Start Guide