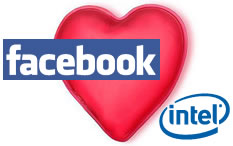 Looks like Facebook and Intel are happy to tell everyone that they're going out together – and Intel will be providing their server processors.
Facebook users the world over will be breathing a sign of relief, as frankly it can be a real drag to use it, as it often runs like treacle.
Facebook, who are now claiming 90 million user worldwide, say that over the past several months, they've been rigorously testing and benchmarking a number of server platforms and scenarios. Following this, they've "ultimately selected the Intel Xeon processor 5400 series."
It's unclear if there was any financial inducement from Intel to help this selections.
Facebook plans to deploy thousands of servers over the next year to help scale their expansion. Any deal they can do to reduce the costs of these would be a wise move.
Benefits For Intel
Intel are clearly on to a good thing here and the benefit are multi-dimensional.
Everyone knows that Facebook is hugely successful and that they have pretty torturous server needs – Intel will get the crown for helping them out.
More probable is that Intel would view Facebook as a great way of exposing their brand and perhaps appearing a little hipper than they currently are – we not sure if this one is quite so certain.