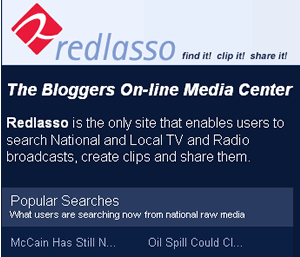 NBC Universal, Fox News Network and Fox Television Stations have filed copyright infringement legal action against Redlasoo, a site that makes video content from TV available to bloggers and provides tools to embed the clips onto Web sites.
The broadcasters have accused the Website of showing programs like "The Tonight Show" and "The Fox Report with Shepard Smith" without permission.
This isn't the first time that Redlasso has had a call from the broadcaster's lawyers. Back on 29 May this year, they sent Redlasoo a Cease and Desist letter (PDF, which they chose to ignore.
Why take legal action?
You could think that any opportunity to show the content that is created by the networks would be welcomed by them, but as it looks like Redlasso are grabbing the broadcast streams, ie what is shown on TV, you can begin to understand their issues.
It's a pretty controversial idea.
Redlasso have imposed restrictions over the use of the video content, like you can't just grab a whole days broadcast and show it on your blog.
They also limit their users show a maximum of ten minutes at a time. Another trip up against those just wanting to show broadcast TV on their blog, Redlasso grabs the TV in one hour blocks, so if the show crosses over the hour, the video has to be viewed in two separate players.
We suspect what's really got the broadcaster's noses out of joint is that Redlassoo gives the opportunity to edit out sections of the videos, so the whole thing isn't presented, just the portion that the Redlasso user requires.
Backfiring
As is often the case with this kind of action – these broadcasters bring attention and publicity to the company that they're taking actions against.
Despite spending every day following the digitisation of media, we hadn't heard of Redlasso. Thanks to this legal action today, not only are we aware of it, but so are you dear reader.