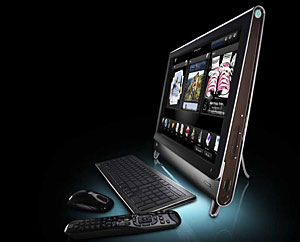 After thumbing through their big book of hyperbolic press quotes, HP have declared that they've been busy "redefining home computing" with their new range of TouchSmart media PCs apparently, "Putting the Digital Lifestyle at People's Fingertips."
We love having a Digital Lifestyle twirling at the end of our finger, so we took a closer look and found that the new HP TouchSmart PC range is a tidy looking integrated PC with customised software to let users shove their smudgy digits all over the screen and do clever stuff.
According to HP, "A finger tapped or swept across the high-resolution screen delivers quick access to information, entertainment and social networks. Without using a keyboard or mouse, consumers can play music and create playlists, zoom in or out of photos, and quickly check the weather or watch TV."
Rather bizarrely, HP insist that their TouchSmart PCs are designed to resemble the lines of a messenger bag (a what?!) and this will – apparently – facilitate its use "wherever life happens, whether in the living room to entertain friends, in the den as a social hub, or in the home office."
Here's John Cook, BP's vice president of marketing, Worldwide Consumer PC Business primed and ready to bang on about err, "feeds and speeds."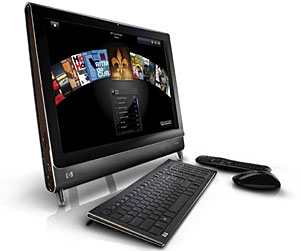 "Our engineers have created a fun, engaging and simple touch experience for the home that nobody else offers today. We're changing personal computing from just feeds and speeds to an experience influenced by consumer trends and design that anticipates customer's needs. The HP TouchSmart PC is all about reinventing the personal computer experience," he said.
The integrated HP system only needs one power cord for the whole caboodle, and packs a 22-inch, high-definition, widescreen display powered by a an Intel Core 2 Duo processor in a shiny, piano-black finish with "elegant espresso side-panel highlights" whatever they are.
Inside the 2.6-inch thick chassis there's a 500GB disk whirring away and 256MB of NVIDIA GeForce 9300 M HS HD graphics with the combo coming with a low-profile wireless keyboard, integrated WLAN, adjustable tilted screen and a HP Ambient Light for seeing the keyboard in the dark and getting a groovy glowing thang going on.
The base model HP TouchSmart IQ504 PC and the TV-tuner equipped IQ506 PC will set punters back from $1,299 and $1499 respectively, with availability from July 13.
More information is available at www.hp.com/touchsmart.