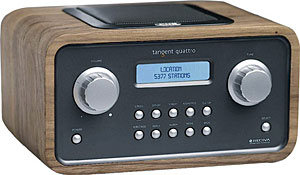 If you find yourself pining for the smooth wooden lines of your Gran's old radiogram and great chunky, old-school rotary dials still get you moist, then prepare your heart for a boost in the thumpa thumpa department as you set eyes on the Tangent Quattro MK2 Internet Radio.


Offered in a choice of finishes sure to find favour with conservative types who like their technology clad in a traditional look, the Tangent Quattro MK2 Internet radio upgrades the original Quattro, which impressed the folks at What Hi Fi so much they awarded it 5 stars.
"So what do we get that's new?", we hear you ask, excitedly. Well, the shiny, all-new v2 Quattro comes with an FM radio, alarm clock, Ethernet RJ45 port and WPA2 Wi-fi security protocol; and that's on top of the original feature set which included built-in Wi-Fi, access to thousands of net radio stations, music streaming from your computer and the ability to play back BBC 'on demand' shows and podcasts.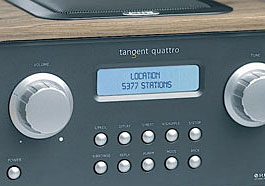 There's also an auxiliary port for hooking up your iPod, PMP or Hi-Fi, with station/status info being displayed on a central blue backlit LCD display.
We've not managed to get our ears around one of these puppies, but word is that you can expect an aural treat from its top mounted mono speaker.
The walnut and black model retails for £180 while wild eyed crazy hipsters can get down with a gloss red and white number for an extra twenty smackeroos.