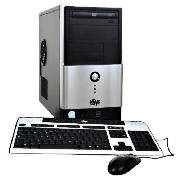 Wow, Tesco's Online are knocking out brand-new computer complete with Linux-loaded on it.
Who would have guessed that the company that started their online shop totally reliant on using the Microsoft Web browser to be able to use it would shifting so radically.
OK, so the 80Gb eSys ePC is only driven by an Intel Celeron processor running but it is running at 2.66GHz and comes with Ubuntu Version 6.06, Open Office – all for £139.93.
Open source for the masses?