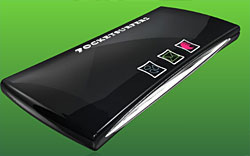 Now tempting your wallet via the Clove website is the Datawind PocketSurfer2, a small, simple web-connected device with
low cost connection fees providing "pocket broadband access."
Priced at a reasonable £180, the PocketSurfer 2 comes with a built SIM that lets you connect to the Internet for up to 20 hours per month for one year for free. After that, users get hit with a £39.95 yearly connection fee.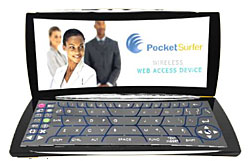 Sporting a rather bizarre design that looks like Tron meets the Motorola Razr, the keypad offers oddly shaped, angular keys, with a selection of quick access keys running down the left hand side.
The superslim PocketSurfer 2 claims web page loading times of "7-9 seconds," with the blurb adding, "no pages are reduced in size or content, they appear as they would on a desktop or notebook PC. All this over GPRS!"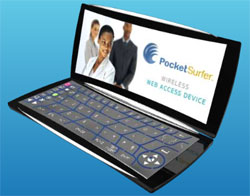 Reviews so far have borne out this nippy surfing, with web pages sent from Datawind's server, with clever-clogs algorithms prioritising straight text page elements and shrinking down images, resulting in web page content being compressed by a factor of up to 30.
Pages are navigated via a clunky four-way navipad with a dedicated button letting you switch between standard and full screen mode.
Content can be uploaded to the free 25GB online storage vault provided by Datawind, and there's support for email, SMS, IM and remote PC access, although anyone looking for a mobile multimedia experience will be disappointed to discover there's no speaker onboard (and thus no VoIP).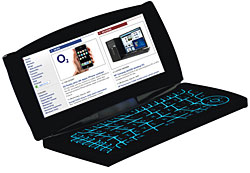 Unfortunately, the Flash-tastic website was frustratingly low on detail, so we're not sure what other apps are on board, neither was their any indication of what the operating system looks like. There's still a lot to be said for simple HTML when manufacturers are trying to inform the public about their product rather than trying to bedazzle us with swishy animations.
So long as you stay within your allocated time limit, there are no separate network operator fees or service charges, with heavier users invited to shell out an additional £5.99/month for unlimited web access.
Specs
Operating Frequency –
Quad Band GPRS 850/900/1800/1900MHZ
Internal High Performance Antenna
Input/Output
Mini-USB Charging Port
Mouse Pointer GPS Location Information
Loads web pages in under 7 seconds
Full QWERTY Backlight Display
Battery –
Rechargeable Lithium polymer Battery
5 Hours Active Usage, 5 Hours standby
Weight – 174g
Dimensions – 152x75x15mm