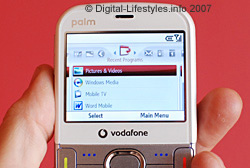 This is the last section of the review – check back on parts 1 and 2.
Camera and video
The onboard 2MP camera produced reasonable enough results although the accompanying thunderous shutter sound effect is likely to startle sleeping babies and send nearby cattle stampeding. We sure it's in there somewhere, but we couldn't find a way to turn the ruddy thing off.

The resulting pics (recorded at 1600 x 1200 pixels) were certainly good enough for 6″x4″ prints, but the lack of flash might prove a minor annoyance.
Despite the 500v being a 3G UMTS handset, there's no front-mounted camera on the Treo for video calls (not that we've ever felt the need to make any of them).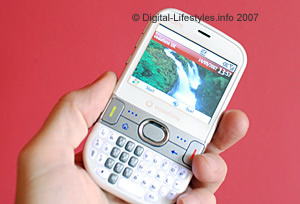 Video quality at the highest setting – 320×240 (mp4) – was passable enough for having a laugh on YouTube although, like most phone cams, it didn't handle fast movement very well.
You wouldn't want to be using it for recording the really precious memories, but it's good enough for grabbing short movies and unlike the rival Blackberry Curve phone, at least there's a video recorder there in the first place.
It has to be said that both the video and still cameras on the 500v are leagues ahead of the near Stone Age offerings on the Treo 650/680, and as Palm OS users, we hope that the soon-come Centro packs equivalent optics.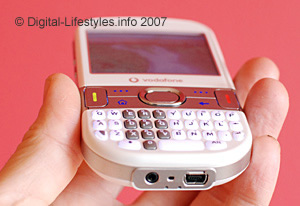 Bundled apps
As well as the applications listed above, the Treo 500v also comes equipped with basic but usable mobile versions of Microsoft Word, Excel and PowerPoint, plus a PDF reader. You wouldn't want to be authoring your latest bodice-ripper on the phone mind, but being able to sync documents with your PC and read emailed Word files is useful enough.
The calendar application isn't going to win any interface awards either, but it does the job, as does the address book and to-do lists. Serious PIM users might want to consider investing in third party applications.
Email and web
The email client lets you check up to five web-based email accounts at once (including Hotmail/MSN, Yahoo! and Gmail), with straightforward interfaces giving access to Windows Live! IM chat, MMS and SMS.
In a bizarre backwards move, Palm have removed their legendary threaded SMS view – an idea so good that Apple nicked it for their iPhone recently – and replaced it with the boring, old-style Windows Mobile interface listing texts individually.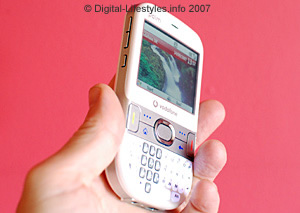 For web browsing, we were fairly impressed with Internet Explorer Mobile which did a good job of serving up readable versions of most web pages. Google Maps and eBay pages were also quick to display and easy to use.
YouTube videos can be viewed with the built in Streaming Player, although the video quality isn't the greatest and at times it sounded like the clip was being narrated by a Dalek.
Vodafone Live!
We were rather impressed with the location-based functionality of the Vodafone Live! service on the Treo 500v, with the 'where am I now' service offering to tell us, err, where we were and then providing local cabs, cashpoints, cinema listings etc. Nice, but it's not free for some uses.
We were especially chuffed that when we selected 'clubs in our area', our very own club night appeared on the first page of results, and clicking although gave us a map of the area. Neat, and something we could see ourselves using a lot of.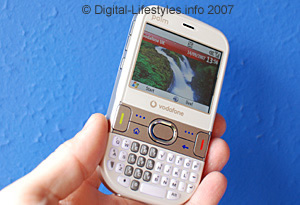 There rest of Vodafone's Live service seems to be principally interested in the sports, music, totty'n'titties crowd, offering endless (paid) downloads of busty babes, 'sexy stuff' and yet more soft porn.
Actually, we're being a little unfair. In amongst all the Zoo Mobile vixens, beach crumpet and saucy FHM hotties there were some genuinely useful free offerings, including live train timetable search, location-based AA road alerts and maps and fast access to BBC news, ITN news and, err, FHM Magazine.
We loved being able to watch the BBC News TV summaries on the phone too.
Multimedia
Photos can be displayed (individually or as a slide show) via a simple viewer offering basic editing features – crop or 'auto correct' – and your snaps can be shared with the masses via email or Bluetooth.
A rather natty looking Windows Media player takes care of video and music playback options, backed by a respectable 150MB of user available built-in storage, backed by a microSD memory card slot for additional capacity. Bluetooth 2.0 + EDR stereo support is also included.
Battery Life
We haven't had chance to methodically test the phone's battery life, but it seemed on a par with the competition. It's a relief to see that the Treo comes with a user replaceable battery too (take note, Steve Jobs).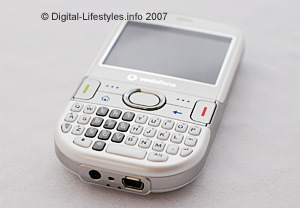 Although the battery looks tantalisingly close to the one that fits the Treo 680/750, current users looking to switch phones will be miffed to realised that they're not compatible.
What's missing
Palm's curious allergy to all things Wi-Fi continues, although it's forgivable in such a low cost handset, particularly when there's 3G onboard. EDGE might have been nice too, but it's not a deal buster for us.
Conclusion
We're rather impressed with this phone. Despite our previous misgivings about Windows Mobile devices, the 500v offers a fast, very neat and intuitive interface that is dead simple to use.
We liked the QWERTY keyboard and overall usability of the Treo, and we'd go as far as saying that this is the best all-round Windows smartphone we've used to date.
The rounded, slim, big screen design looks great and feels comfortable in the hand, and although the specifications may not right out there at the cutting edge, there's more than enough functionality and multimedia goodness on board to keep most folks happy.
With Vodafone stating that they will be offering the Treo 500v free with certain contracts, we reckon Palm might well have a hit on their hands with this phone.
We reckon the 500v is a fine return to form from Palm and comes highly recommended. Can we have the Palm OS version now, please?
Our verdict
Ease of use: 84%
Build: 82%
Features: 80%
Phone quality: 85%
Value for money: 90%
Overall: 87%
Specifications
Platform Windows Mobile 6 Standard
Display 320×240-pixel Transflective colour screen; supports 16-bit colour (up to 65K colours)
Radio GSM/GPRS/UMTS radio
GSM bands: 900/1800/1900 UMTS bands: 2100
Bluetooth Version: 2.0 + EDR
Profiles: Headset, handsfree, EDR, serial and OBEX. Mono and stereo headsets are supported
Memory 256MB memory (150MB available user storage)
Camera 2.0 megapixels with 2.5x digital zoom and video capture support
Battery Removable 1200mAh, lithium-ion
Talk time: 10 days standby, and up to 4.5 hours of talk time
Expansion MicroSD card
Connector Mini USB
Dimensions 16.5mm (D) x 61.5mm (W) x 110mm (H), 120 grams
System Requirements Windows XP, Vista
Bundled software: ActiveSync, Alarm Clock, Bluetooth, Bubble Breaker, Calculator, Camera, eBay, File Explorer, Google Maps1, Internet Connect Sharing, Internet Explorer Mobile, Messaging, Microsoft Notes, Microsoft Office (including Excel, Outlook, PowerPoint, and Word), Phone, Picture and Video, Solitaire, Task Manager, Vodafone Mobile Windows Live, Windows Media Player Mobile
Palm Treo 500V
The Palm Treo 500v will be available exclusively from Vodafone in October, with an unlocked version appearing at the beginning of January 2008.