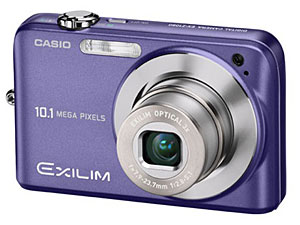 The crew at Casio are getting ready to release two rather ho-hum pocket size Exilim cameras packing YouTube compatibility.
Casio Exilim EX-V8
The Casio Exilim EX-V8 knocks out a reasonable 8.1 effective megapixels in a super slick package that manages to squeeze in a handy 7x super-quiet optical inner zoom lens.

There's also a CCD-shift image stabilisation mechanism combining with the Exilim Engine 2.0 image processing module to offer four blur reduction technologies.
At the back, there's a 2.5-inch bright LCD display, with a 'YouTube Capture Mode' letting users prep high-quality movies (using the H.264 standard) for uploading to YouTube via the supplied "YouTube Uploader for Casio" software.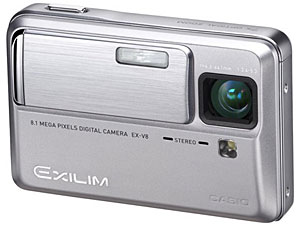 It all sounds exciting, but all it actually does is let users to shoot and save movies at the right size and quality for YouTube and make it slightly easier to upload them to your site.
A built in electronic image stabilisation function helps reduce the wobblies in movie mode.
The little fella can deliver a maximum of 4 shots a second but at a reduced 2.0 megapixel resolution.
Coming with a sliding lens cover, the camera will be made available in silver or black
Casio Exilim EX-Z108
The EX-Z1080 whaps the pixel count up to 10.1 million effective pixels, with just a 3x optical zoom onboard.
Onboard gizmos include Best Shot function, High-sensitivity shooting mode (up to the giddy heights of ISO 6400), a 2.6-inch bright widescreen LCD display and a maximum 7 shot/second high-speed continuous shutter, again at a reduced 2.0 megapixel resolution.
Casio are claiming that the combo of their face detection technology and the auto-tracking AF system using motion analysis technology will produce pin-sharp mug shots.
Casio are claiming a hefty 370 shots per charge with their Super Life Battery, with the same electronic movie stabilisation function and YouTube software (but there's no proper optical stabilisation for stills).
The camera will come in no less than five colours: gray, black, blue, pink and gold. Furthermore, blur reduction technologies driven by the Exilim Engine 2.0 image processing module are also based on motion analysis technology, and sets the most appropriate ISO sensitivity and shutter speed. The Casio Z1080 camera is further equipped with Anti Shake DSP to reduce blur due to shaky hands and subject movement, using high shutter speeds and high sensitivity settings.
Both cameras are expected to emerge blinking into the light this September with the V8 knocking out for $330 and the Z1080 $280.