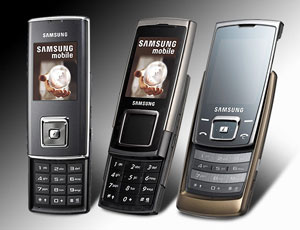 Spurred on by the relentless cracking of the new product whip, Samsung's factory drones have unveiled three brand spanking new phones with "luxurious, stylish designs and innovative features" backed by a full suite of multimedia features.

The top of the range SGH-E950 shuffles down the catwalk parading a 3.2 megapixel camera, swish touch navigation, shiny new icons, improved multimedia and music features and "more efficient" email and Internet access.
Samsung claim that its metal-finish is so "luxurious" that helpless punters will be reduced to dribbling denizens of drooling desire when their eager peepers make contact with the phone's touch sensitive display.
The super-skinny SGH-E840 – the slimmest slider in the world, no less – gets all minimalistic and futuristic with a glossy surface and a Kate Moss-esque 10.6mm frame. This one looks the most likely candidate to make it into Europe-land, with its quadband GSM, EDGE, 2 megapixel camera and up to 2GB of MicroSD storage.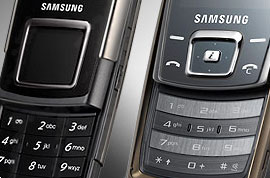 Last – and most definitely least by the look if its spec sheet – is the SGH-J600, an "affordable" jobbie available in daftly named colours ("intense hues" of "mystical colours," my arse!) and a lowly 1.3-megapixel camera.
Samsung is making a big hoo-hah of the Touch Sensitive Keypad which appears on all the new phones.
These apparently responds to the merest whiff of a finger sweep, with the the back-lit keys automatically glowing blue when you slide up the phone.
"Integrating beauty and technology in a mobile phone is something Samsung has always prided itself on. I believe that our latest portfolio of fashion phones – the SGH-E950, E840 and J600 – presents our users a selection of mobile phones which truly epitomises the phrase 'beautiful technology'," frothed Mr. Geesung Choi, President of Samsung's Telecommunications Network Business.
The phones will be rocking the Southeast Asian market over the next month or two but there's no news on a European/US release yet.