Sony Ericsson have let it be known via press invites that there's a number of new handsets being released in Europe next Tuesday.
What they are and where it's going on is currently being held close to the chest, but there's rumours going around that one of them might be the W880i Ai.
There's some shots purporting to be it floating around on a Swedish site called Mobil.
If the shots are to be believed, it looks mighty svelte, appearing only just bigger than a Bic lighter and as thin as you like.
It's understood that it feels really solid, with a covering of metal conveying a feeling of quality.
We think it looks pretty hot, but the only thing that holds us back from near-total lust is the size and make up of the numeric keys, that have more than a passing similarity to a 1970's calculator. Without having our hands on it, it's unclear how friendly it will be to texting at high speed.
Specs are unclear, but it looks like two cameras, one facing forward, the other, a 2mpx facing back. Walkman branding makes it pretty clear it has music-ness included.
It looks like it's 3G, which makes it all the more remarkable that it's so tiny.
We're really interested in its almost-neon-type interface.
Last, but not least, it looks like it's heading to the US, as it's got FCC approval.
Tune in next Tuesday for more details following the press launch, until then have a look at Mobil for more shots of it – and get a handkerchief to catch the drool.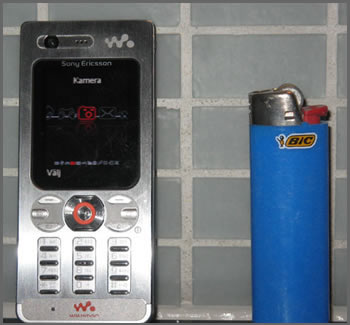 The official I Want My W880 site.
Well done to those at Mobil for the photo scoop and Thanks to Hugo for the pointer.