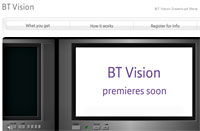 As we've covered extensively, BT has been working on BT Vision for yonks now, perhaps struggling with some of the technical issues with the Microsoft system that they're running.
Launching on Monday, BT Vision, BT's new combined television and Internet service, will let customers view Freeview channels and catch up with TV shows over the past week with no monthly subscription fees.
We'll be at the launch cover it live, so tune in on Monday.
BT will also offer "on-demand" content (films, music, TV programmes etc) for viewing on home TVs, downloadable over a broadband connection.
With BT and BSkyB enjoying joint rights to show Premiership matches, BT will provide paid access on a per-game and "season ticket" subscription basis.
Other one-off and subscription Pay TV content will be available via "add-ons," with the service using BT Vision's set-top, a programmable Sky+ style PVR unit capable of storing up to 80 hours of TV and set to retail for less than £100.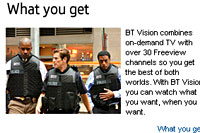 Viewers will be able to pause and rewind live TV and enjoy access to around 30 Freeview channels.
BT's new TV service echoes moves made by France Telecom and Telecom Italia in Europe, and should help the UK broadband giants fend off competition from rivals such as TalkTalk who are reeling in punters with their 'free' broadband service.
It's also a smart piece of a manoeuvring to counter Sky, who recently launched their own residential broadband service, as well as cable network NTL who are mustard keen to start delivering content over phone lines.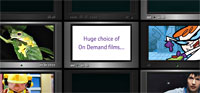 BT is set to start rolling out the service early next year, although it's going to be a bit of a half-cocked launch with only Channel Four currently signed up for the seven-day "catch-up" service (behind the scenes, BT's legal team are busy battling with BBC and ITV producers to negotiate a path through the minefield of rights.)
BT Vision's Download Store will also include music content, with deals already struck with Sony BMG, MTV, Video Performance Ltd and BTPodshow.