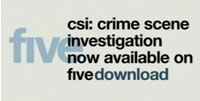 UK Broadcaster Channel Five have launched their Five Download, Video on Demand (VoD), service with US series CSI. They've previously offered downloads of the car show, Fifth Gear.
The new service is offering straight CSI: Crime Scene Investigation; CSI: NY and CSI: Miami.
This isn't Just-Another-VoD-Service (JAVS), as there's some innovation in here. CSI fans are mad keen on the programme (so we understand) and understanding this, Five is offering the episodes seven days ahead of the TV broadcast date. Fans will pay a premium price for this £2.49 vs the usual £1.49 per episode. We suspect that once hooked on receiving the content early, fans using the service will have to continue paying to stay ahead.
Engaging in some mutual back slapping Jane Lighting, Five's Chief Executive, said: "I'm delighted that we are launching the service with CSI enabling us to offer the highest quality content to viewers with a viewing window which exceeds anything currently in the marketplace," to which Ted Riley, Executive Managing Director, International Content Distribution, Alliance Atlantis whooped "The first-ever CSI Franchise VoD service outside the U.S., is both a thrilling proposition for U.K. fans," adding that it "heralds the roll-out of other new media opportunities for this fantastic franchise internationally."
One of the challenges for this service, as it is with all others – they're competing against the same content being available on file sharing networks near-instantly available after they've been shown in the US – yonks before they hits the UK. Fanatical fan's will more than likely not wait for the legitimate source and go the file-sharing route. The fact that the programmes won't cost them anything will be incidental.
Five will be charging either £1.49 or £2.49 per download which we think it pretty steep given the episodes are only available for 14 days and is restricted to one computer. If you're impudent enough to try the content that you've paid for on another machine, you'll be completely locked out of that content.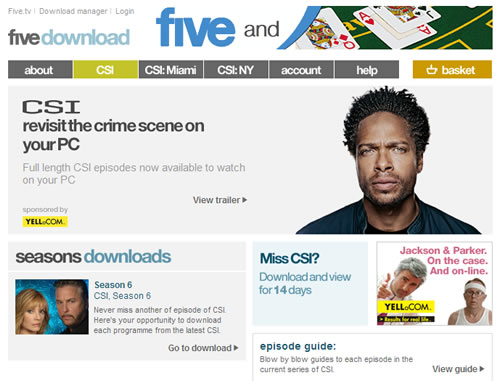 To use the service you'll need to download and install the Five Download Manager and Player which has been provided to them by BT Media & Broadcast, but the base level technology is from Entriq. Entriq's MediaSphere is used by other companies such as BT Vision and with download services.
As Five are using Microsoft's DRM, the service is only available to those in the UK who run Windows XP or 2000 and browse through Microsoft Internet Explorer 6.0 and enable ActiveX. Users of Windows XP must use Windows Media Player 10 and 2K users must use Windows Media Player 9.
Microsoft has steadfastly not introduced their latest DRM on the Macintosh, so they're excluded.
Those of you lucky/unlucky enough to not have the above, can still view the trailers (well we could on a Mac anyway).