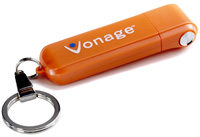 Vonage have launched a new means of making VoIP calls on you PC – a USB stick with headphone socket.
The invite to Vonage's event to launch the V-phone billed it as 'The World's smallest phone." Whether you feel that is a marketing spin or correct is personal interpretation.
It's not a phone in old understanding of it … but frankly, what is? The USB stick has Vonage Talk software pre-loaded on it, with a detachable stereo earpiece/microphone and you'll be left with 250Mb of usable memory. You also get a new Vonage phone number. All for £20.
With it, you can use any PC as a way to send and receive phone calls on a Vonage – even PCs without the Vonage software installed. To use it, just plug the neat USB stick in with the the headphone, the software temporarily runs and you're ready to go. When you've finished chatting, simply software-eject the USB stick and remove it. There's nothing left on the machine.
Skype has done a similar thing through a deal with SanDisk to have their software on their Cruizer USB stick. We've used it and found it pretty impressive. The only thing missing is the headphone socket.
We think this kind of approach – temporary software – will become more common as computing become ubiquitous and more a utility than rarity.