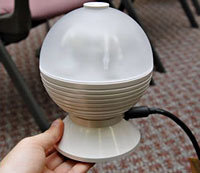 We can't say we like the thought of being bombarded by different whiffs while we're listening to the radio, but it seems someone in Japan liked the idea so much that they're about to launch a fragrance-pumpin' product in October.
Apparently called the 'Aroma Geur,' the device takes the shape of a USB connected sphere which is capable of generating different pongs depending on what content is playing on the radio (perhaps the smell of dirty leather for Motorhead, and Guinness for the Pogues?).
Soon to be introduced by NTT Communications – the corporate business arm of Tokyo-based Nippon Telegraph & Telephone Corp and Tokyo FM Broadcasting – the curiously named Aroma Geur comes loaded with six oil-based perfume compounds, which can be instructed to mix up the right whiff on demand.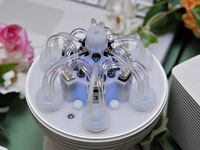 The gadget connects to your desktop via USB, with the PC downloading the aroma instructions from the radio station via the Internet, with odorous wafts synchronised to match whatever song is currently being played.
Lurking inside the gadget is a set of solenoid valves which open and close magnetically to ensure that just the right amount of perfume fills the air.
To further enhance the 'experience', the whiffo-sphere (as we like to call it) accompanies blasts of perfume with a show of random, shifting coloured lights, apparently to help you have a "more soothing experience."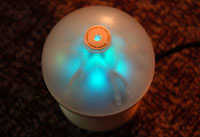 The USB Aroma Geur is available for 49,900 Yen ($430), with the service scheduled to start up in Japan from 2nd October 2006.
We can't wait to get a whiff of some Bob Marley tunes on the thing.