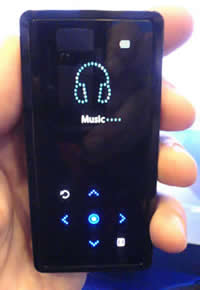 During his keynote, Gee Sung Choi, President and CEO of Samsung announced the launch of the YP-5K, a very slick MP3 player with built-in pivoting speaker, letting you 'entertain' your friends or fellow train passengers.
The hinge mechanism is very neat. As it slides the silver grill of the stereo speakers is exposed. When fully expanded the front pivots, enabling the unit to be placed on a table, with the speaker angled towards the listener. Ideal for listening to. (Watch the video).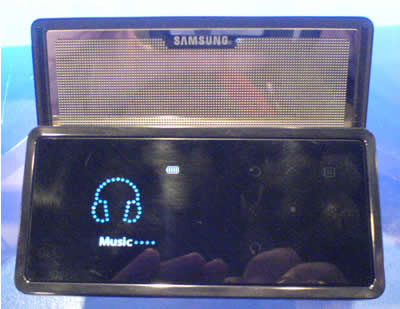 They've also gone to town on the visual interface, with celestial collection of glowing blue pixel, rearranging themselves to form the different icons. (Watch the video).
Make no mistake, this is a slick bit of kit, with photo display and 30 hours of playback time.
It's going to be available in 1Gb/2Gb/4Gb capacity using solid-state Flash memory.
US pricing – $210 for 2 GB and $260 for 4 GB.