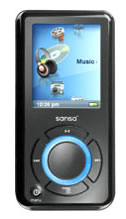 Forget the Nano, do the Sansa
Sansa's are a new range of portable media players from SanDisk. They come in several versions starting with the 2GB e250, the 4GB e260 and the 6GB e270. There's also the possibility of adding to the internal memory as they have a microSD slot, unfortunately microSD cards currently only support up to 1GB.
The packaging though functional, doesn't meet Apple standards. Though the e270 which is 8.5cm long by 4.1cm wide and 1.1cm deep with a grey metal back (about 0.5cm deep) and a black plastic front, almost does.
The display is about 3.5cm high and 2.7cm wide. It comes with headphones (which are quite big being over 1.5cm diameter), a USB lead (the Sansa itself has a proprietry connector – so you need the cable, it charges through USB), a lanyard and a soft case.
Though bigger than a Nano it fits comfortably in your pocket. The black headphones come on a 2 foot lead and are actually reasonably good, though their size might be uncomfortable for people with smaller ears.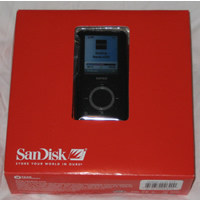 It glows
Turn the device on and the first thing to notice is the glowing wheel on the front, a nice deep blue that stands out against the black face. It only stays on for about 10 seconds, then the display illuminates. The display is TFT and is very bright and vibrant.
The wheel is a wheel, it turns controlling the icons on the display (which are connected as though they are on the surface of a disc). Oddly the icons cycle in the opposite direction to the turning of the wheel, but for some reason it feels the right way to do it.
There are four buttons mounted around the wheel (like a compass) and one in the centre. Turn the wheel to the icon you want and press the centre to select it (generally the right hand button can also select things). The left button takes you back a menu/icon.
Media
The unit obviously plays MP3's but also supports WMA including secure WMA files. Video is a MOV format and photos seem to be in bitmap format, luckily SanDisk supply some software called MediaConverter which does just that and converts various input formats into the correct format for the player. Images can be in JPEG, TIFF, PNG, BMP and GIF.
Video can be in AVI, MPEG-1 & MPEG-2 in MPEG, MPG, MPE or VOB (unprotected) formats. MPEG-4 in AVI format, DAT, ASF, QuickTime MOV, and WMV. Media Player 9 or 10 and Quicktime 6.5 or higher must be installed for QT MOV files.
Video is handled well and is converted to the high by long format (videos are watched by turning the player on its side), but photos aren't and an external application may be used to flip them.
Connections
There are two modes of operating when plugging into a USB port of a PC, Mass Storage Class (MSC) and Media Transfer Protocol (MTP). MSC makes the Sansa look like a removable drive (one for the Sansa itself and another if a microSD card is inserted). MTP make the Sansa appear as a portable device (under XP) and uses Media Player 10 to transfer content, including subscription content from Microsoft's service. SanDisk now have an upgrade utility that installs on the PC and will check the SanDisk site for firmware upgrade. The player must be in MSC mode for it to work.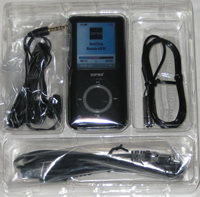 Verdict
The Sansa isn't an iPod, it's not as easy to use but it is a pretty good little player and supports a good range of formats. You don't actually need to use any other software if you just want music, just plug the Sansa into the PC and copy any music tracks saved on your PC. Playlists are a pain, and though they can be set on the Sansa, the more sensible way is to create them in Windows Media Player and sync them with Sansa.
Video and photos really requires MediaConverter to ensure they're in the right format.
Mac users are out of luck, unless they just want to copy MP3s onto a raw disk.
Pricing
e250 – £89
e260 – £120
e270 – £150
Overall score: 71% – it's small, with a good display and does more than a Nano.