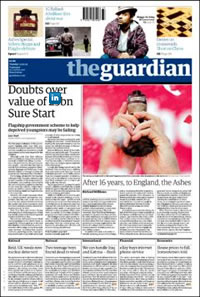 The UK's national leading left newspaper, The Guardian, has been looking at what it thinks is the future of the daily newspaper. Since the successful launch of its Berlin edition in 2005, which rolls out of the presses somewhere between the size of a tabloid and the more traditional 'quality' broadsheet, it's done a pile of blue sky thinking.
As well as producing lively Podcasts on media and business, it now brings the much heralded digital 'Newspaper of the future' to your computer – sorry paperboys and girls, looks like your days could be numbered.
The answer to the blue sky thinking that it's put together is pretty radical and out there (literally) for you to try. A downloadable PDF newspaper. It comes as a group of 5 pdfs that are updated every 15 minutes throughout the day and it can be printed on your standard A4 desktop printer. The editions are compartmentalised as Top stories, World, Media, Business and Sport and offer a fairly amazing step forward for newspaper distribution, cutting out a whole tier of distribution. Only becoming physical when printed by the reader – and at the readers expense.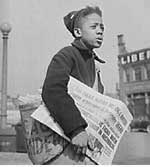 Since the eBooks.
The challenge for any venture like this is to keep the current revenue stream running while building a new wave stream. It's a brave move and we hope it'll give a challenge to the rest of the UK news industry.