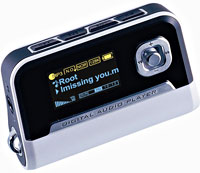 Proof that podcasting is moving further into the mainstream comes with the news that MP3 players from mobiBLU will be shipping with preinstalled software designed to download podcasts with just one click,.
The itsy-bitsy mobiBLU B153 and mobiBLU Cube MP3 players will be supplied with Podcast Ready's myPodder software which makes it easy to get download podcasts on to the devices.
Using the service, podcast-hungry mobiBLU MP3 owners can slap their players into any Internet-connected computer to access myPodder, where they can then update, subscribe to and manage their podcasts.
Available in English from today (with Japanese, Korean and German versions debuting in June), the Podcast Ready service also provides a podcast directory with one-click podcast subscription.
It's not just about Apple


With a wagging finger and nodding head, Russell Holliman, founder and CEO at Podcast Ready sighed, "There is a huge perception that podcasts are for Apple users only, and if you're not using an iPod it's a difficult process."
Holliman hopes that their new software will prove that anyone armed with an MP3 player can join the Podcast revolution – and the market is potentially huge.
Research firm In-Stat estimates that MP3 player unit sales will rocket to 286 million by 2010, way up from last year's 140 million sales.
The Players
MobiBLU's B153 is a neat little fella with enough juice onboard to let you listen to around 150 hours of battery life based on playback of 128kbps, 44.1 KHz, non-DRM MP3 files – long enough for even the most self-obsessed podcast.
Battery life slips down to a still-impressive 100 hours when using WMA DRM files.
The player includes an FM Tuner, voice recorder with built-in microphone and comes in 512MB, 1GB, 2GB storage capacities.
Suggested retail price for the 2-GB MP3s are $129.99 (£71, €103) and $159.99 (£87, €126), respectively.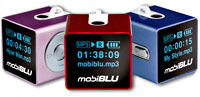 The appropriately named mobiBLU Cube is, at 0.94″ square, one of the smallest in the world and comes with a large OLED (Organic Light Emitting Diode) display.
The teensy-weensy square player comes in 256 MB to 1GB configurations, with all models managing to wedge in an FM tuner.
The 1GB model is currently retailing in the UK for around £130, but look out for a mobiBLU Cube2 coming soon!