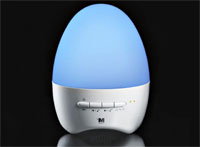 If there's one thing we've always thought that's been missing when we've been grooving to our MP3 files, it's an egg-shaped device that changes colour to the music.
And now – would you believe it! – Chinese manufacturers MobiNote Technology have made our dreams come true with the release of their Hipper 100 device offering that much-needed, "egg-shaped illumination." We're eggs-tatic!
Described as a "Mood Creator," there's an MP3 player, speaker and LED light all bundled into the egg shaped package, with the LED able to cycle between 10 colours in response to different beats and rhythms.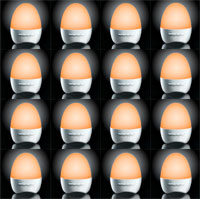 If you're rocking out at home, the lights go up to 11 for Hip Pop or dance music, while if you're in the mood to get down with your laydee, the LEDs will glow all soft and romantic as you slip on some sweet-talking tunes from the love lothario himself, Chris 'look out ladies' DeBurgh.
The USB port lets you plug in any USB device storing MP3 music files – like USB pen drives, MP3 players or card readers – with a line out feature allowing punters to connect the MobiNote Hipper to external speakers or headphones.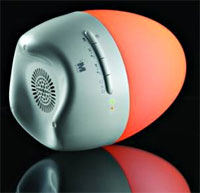 The player supports MP3 and WMA format music files and also comes with a line-in connector for non-USB audio devices, such as CD players and cassette recorders.
The suggested retail price of Hipper 100 is US$69 (E56, £39).
We bet you're really eggs-cited and oval the moon, eh?
(Gets coat)