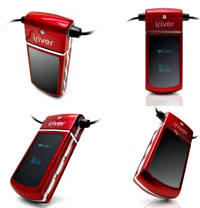 We have to say that if we strutted down the local boozer with an MP3 player strapped on around our neck, we'd most likely be called a lot of things – some of which might just rhyme with 'Anchor' – but, hey! – what do we know about yoof product design?!
Someone who does know a bit about design is Korean MP3 specialists iRiver, and judging by the way they're bigging up their new N12 player on their Website, MP3 necklaces are, like, way down with the kids.
The form factor may not rock our world, but there's no denying the diminutive players look very attractive in their shiny red or black finish, even if the headphone attachments look well odd – imagine trying to unravel that lot after five pints of Old Arkensall's Badgerbait.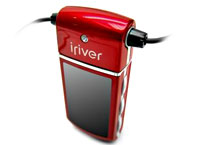 Dominating the iRiver is a large, 4 Line, 16 tone greyscale OLED screen, which displays EQ settings, track listings and folder views, and also doubles up as a clock/alarm clock.
The spec list looks pretty reasonable too, with the N12 offering 1GB of flash storage, USB 2.0 connectivity and the player supporting MP3 (MPEG 1/2/2.5 Layer 3), WMA, OGG Vorbis (Q1~10), ASF formats.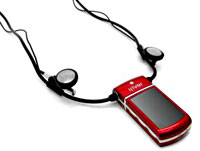 There's also an FM radio onboard – pretty crucial, that – with iRiver quoting a MP3 playback battery life of around 13 hours per charge (128kbps, MP3, volume level 20, EQ Normal, LCD Off).
Weighing just 22 grams and measuring 49.8(D) x 27.2(W) x 13.3(H) mm, the N12 is small and light enough to wear all day.There's no news of a UK release or pricing yet, but over there in Europeland, it's to retail for around €170.