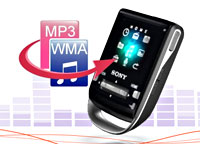 Details of a snazzy new range of Sony flash memory MP3 player/FM radios with a colour display have appeared on Sony's Chinese site.
As our Chinese translation skills are up there with our ability to understand advanced quantum physics explained in Latin, we may not be 100% accurate here, but it appears that Sony China is introducing a new range of flash memory multimedia players, under the name of the CE-P series.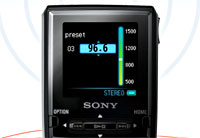 Sporting attractively bijou dimensions of 75.5mm x 45.5mm, the CE-P is smaller than a credit card (but not as thin, natch) and is designed for carrying around your neck, gangsta-stylee.
The first model to be designed by the Sony China Creative Centre in Shanghai, the front of the display is dominated by a 1.5″ 260K color OLED display.
Sony's designers have turned up the feature set to eleven, with the unit ramming in MP3/WMA playback, a built-in 87.5-108MHz FM tuner and FM radio recording, voice recording, BMP/JPEG picture display and USB 2.0 for file transfer.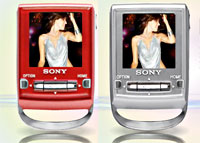 The CE-P series will come in three flavours, offering storage capacity from 256MB to a 1GB.
We've no idea about availability in Europe and America, but pricing should be somewhere in the region of $150 (E124, £86) for the 1GB model, $125 (E103, £72)for the 512MB and $100 for the bottom-of-the-range 256MB unit.