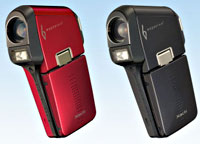 Sanyo have just launched what it's claiming is the world's smallest, thinnest and lightest solid state digital camcorder, the Xacti C6.
So small and cute you want to pat it on the head, the X6 measures up at just 2.7 ? 4.2 inches by 0.9 inches wide and barely troubles the scales at 159g when fully loaded with memory card and battery.
Compact enough to slide into your shirt pocket, the distinctive looking camcorder employs the same vertical 'gun' style seen throughout the Xacti range, featuring a swivelling 2-inch trans-reflective 2 inch, 210k colour LCD screen.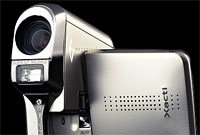 Saving space by recording straight to a SD card instead of using conventional tape, recordable DVD or hard disk, the Sanyo can grab an hour of VGA resolution (640?480 pixels) video at 30 frames-per-second on a 1 GB card using the "TV-HQ" mode (MPEG-4 bit rate: 2 Mbps).
The Sanyo's six megapixel CCD sensor captures still images in standard JPEG-format with the camcorder claiming the world's first 60 fps (frames-per-second) TV output, delivering playback quality that would rival a baby's bum for smoothness.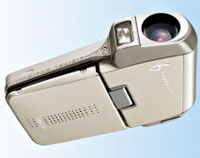 There's also a 5x optical zoom, 12x digital zoom and a Digital Image Stabiliser for correcting any wobbles, with the CCD sensor using 9-pixel mixing technology to record brighter and clearer video in low-light situations.
Available in three colours – gold, black and red – the Xacti has already whipped Steve's Digicams into an enthusiastic froth, and should be available on the High Street any minute now for around £450 ($788, E652).