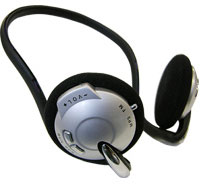 Most built-in MP3/FM/headphone combos are so bulky it looks like the user has got two halves of a tennis ball stuck on their heads, but a new headset from Japanese manufacturers Thanko looks to change all that.
The slimline silver and black headphone combo looks like a regular set of 'cans' (as we musos like to call them) although a selection of buttons on the left hand earpiece reveals their bolted on gizmos.
The controls let users select the FM radio or MP3 options, adjust the volume, change tracks or fiddle about with four EQ settings offering POP, Classic, Jazz, Rock and Normal.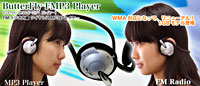 Clearly getting carried away with claims about the unit's diminutive size, the (ahem) 'ButterFly' FMP3 comes in two flavours offering 512MB and 1GB flash memory capacities, with the built in MP3 player supporting MP3 and WMA at 32 – 192Kbps data rates.
Music files can be uploaded onto the ButterFly player by drag and drop over a USB 1.1 connection (Windows only).
Disappointingly, the 76-91Mhz FM radio only offers mono output and, as far as we can see, there's no means to record anything on to the flash memory.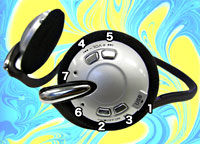 Powered by a non-removable 3.7V lithium ion battery, charged over the USB connection, the hazy web translation suggests that the makers are claiming up to 700 minutes for radio play and 350 – 400 minutes of continuous MP3 playback.
Priced at 9,000 Yen ($77, £44, €64) for the 512MB version and around 58 quid for the 1GB version, they're cheap enough to tempt people looking for what a PR company might call a 'wireless lifestyle experience', although we've no idea when – or even if – they'll ever be shipped into Blighty.