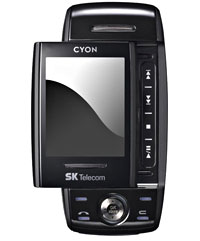 LG have announced a unique new phone, the LG-SD910, featuring what the Korean manufacturing giants are describing as a 'Duo Slide Design.'
More twisty than Houdini in a rubber suit on a oily mat, LG's Duo Slide technology involves a conventional slide-out numerical keypad, with the addition of a nifty horizontally sliding screen.
Shunting the screen a few centimetres to the left reveals a thin strip of multimedia controls, presumably all the better for viewing the screen in landscape format – although the usual totty-clutching photo shows the thing being used in portrait format (we're deep in Babelfish territory here, so bear with us).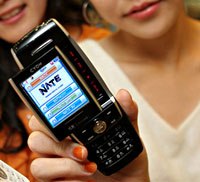 Looking a bit of a moody number in its all-black skin and glowing red buttons, the LG-SD910 sports a large 260k colour QVGA* TFT LCD screen (*that's 320 x 240 pixels in English).
Multimedia is taken care of with a built in 1.3MP camera (with flash) and an onboard MP3 player, with MBank options for payments.
Battery life looks more than ample with 95-270 hours standby and a talk time of 200 minutes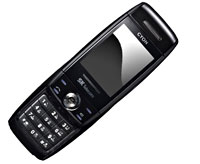 Despite its unusual construction and feature set, when all the slidey bits are tucked in the LG-SD910's a surprisingly compact gizmo, measuring a pocketable 87 x 44 x 23 mm and weighing in at 90g.
Naturally, we're big fans of anything that lights up, swivels, slides out or performs a bit of hi-tech wizardry, but when we see all those moving parts we can't help wondering how quickly they will break or get bits of pasty stuck in them.
Still, with a SK-Telecom, Korea-only release so far announced, we may never get to find out.