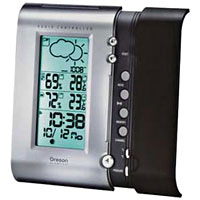 It may not look as pretty as an old fashioned barometer, but Oregon Scientific's Easy Weather System Pro can provide a wealth of information about the weather – with no need to tap its face to get the dials moving.
The £49 ($86, €72) wireless weather station will provide users with ample material for Britain's favourite topic of conversation, with a large LCD screen dishing out a veritable storm of weather-related data.
The weather station comes in two parts with a large main unit (142 x 63 x 158mm) powered by three AA batteries and a smaller remote sensor which beams outdoor temperature and humidity data back to the main unit every 40 seconds.
Getting the sensor to talk to the weather station was simple enough – set the channel number on the sensor (the system can support up to 3 sensors), press 'memory' and 'channel' on the main unit for a few seconds and that's it.
The sensor has a small, built-in LCD read-out, with the main unit sporting a signal reception icon and low battery warning.
Time accuracy is ensured with a radio controlled alarm clock and calendar that synchronises to the radio signal from Rugby, with a handy onscreen indicator shows the signal strength.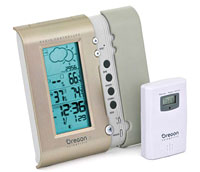 Once set up, the large LCD screen provides indoor and outdoor stats for humidity/humidity trend and temperature/temperature trend as well as barometric pressure/trend (the trend readout displays an arrow to show whether the data is rising, steady or falling.)
A large animated icon forecasts the next 12-24 hours of weather within a 30-50km radius with what Oregon claims to be "75% accuracy" – we found it to be pretty accurate throughout.
Finishing off the feature set, a large clock display gives the time, date and seconds/day with a Moon phase readout.
Over the test period, we found ourselves being strangely drawn to the Oregon's display, constantly checking for barometric blips and temperature twitches and rapidly becoming a walking encyclopaedia of weather waffle.
For anyone with an interest in what's going on weather-wise, the Oregon Wireless Weather Station represents fabulous value and offers a stylish – if sizeable – addition to the work desk – and Lord help anyone who then rings you to innocently ask, "What's the weather like where you are?"
Our verdict:
Features: 85%
Ease of Use: 85%
Build Quality: 80%
Overall: 85%