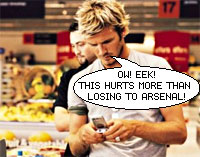 According to a new survey from Virgin Mobile, mobile telephone text messaging has become so popular in the UK that millions are complaining of injuries to their thumbs and fingers.
With more than 93.5 million text messages sent every day, there's a whole load of keyboard action going on all over Blighty, and all that button pushing has led to a massive growth in the number of people suffering RSI (repetitive strain injury).
The survey found that thirty-eight per cent more people suffer from sore wrists and thumbs than half a decade ago, with 3.8 million people complaining of text-related injuries a year.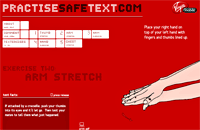 Despite the agony, it seems that Brits are prepared to go through the pain barrier to keep bashing out their texts, with more than twelve per cent admitting to sending 20 text messages a day – with a seriously obsessed ten per cent blasting out as many as 100 texts a day!
You probably missed it – we certainly did – but yesterday (Feb 21) was apparently National Text Message Injury day in the UK.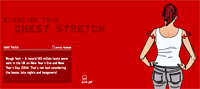 Designed to highlight the very real problems of RSI, Virgin have sponsored a very useful site, practisesafetext.com which comes with useful tips and advice on how to keep your textin' digits in full button-pushin' order.
British Chiropractic Association (BCA) spokesperson Dr Matthew Bennett offered a few tips of his own, advising texters to change hands if it starts to hurt, vary the hands and digits used and don't text for more than a few minutes without a break.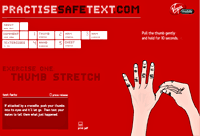 As a recent sufferer of RSI (brought on by long hours sweating over a hot Logitech as I try to bring you, dear reader, the latest stories), I strongly recommend you try out some of the exercises.
You might look a bit of a berk while you're doing them, but anything that keeps your pint-holding hand in good shape can surely only be a good thing.
Headline Translation – too much texting gives you RSI.