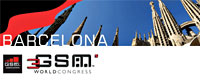 Anyone who's anyone in the 3GSM world will be hot footing it to the 3GSM World Congress in Barcelona, which starts tomorrow.
Waving big shiny banners and shouting 'look at me' will be a slew of mobile and interactive entertainment companies who are keen to team up with telecom companies and grab a juicy slice of the growing mobile entertainment revenue stream.
In a reflection of where the market is headed, the summit will be stuffed full of speakers from big name entertainment companies like Disney, Electronic Arts, Nokia, Vodafone, Motorola, MTV, Sony BMG, Universal and EMI Music.

The mobile phone industry is desperate to come up with mass market services to entice consumers to use 3G networks, but they've got their work cut out, with a recent survey finding that almost 80 per cent of UK users said that mobile services are getting too complicated.
There are high hopes that Mobile TV will prove 3G's salvation and lure in customers by the bucketful.
Keen to show off the technology's potential, MTV Networks will be showcasing three mobile TV channels at the event, broadcasting MTV music and shows, Paramount Comedy, Nickelodeon and IFILM, a new MTV brand.
It's all well and good having the ability to watch TV on the move, but consumers aren't likely to enjoy trying to watch the big game on a squinty tiddler of a screen, so we can expect to see screen sizes on multimedia mobiles to grow rapidly over the coming year.

BT are also going to be at the show and are expected to launch their new broadcast digital TV to mobile service, BT Movio (formerly known as BT Livetime).
There's certainly a lot of interest in the show, with record breaking pre-registrations and 962 companies signing up as exhibitors – a hefty 40% increase from last year.
The predicted 50,000 visitors can also be, err, thrilled by a performance from Craig David's. Lucky them!
We'll end with Bill Gajda, chief marketing officer for the GSM Association, in full PR mode: "As the world's leading entertainment companies accelerate their plans to channel their content onto mobile devices, there is no better place to meet and forge partnerships with the world's buyers of that content – the global operator community – than at the 3GSM World Congress."