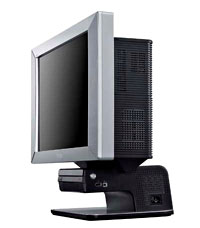 Sony has announced the new VAIO VA1 Series, a wireless home entertainment desktop computer.
Looking like it was knocked out by designers in a hurry to get home, the chunky machine seems to lack Sony's usual flair for design, but underneath the less-than-glamorous exterior lurks a novel hybrid machine, boasting analogue and digital TV tuners, a DVD rewriter and capacious hard drive.
The display is a big Sony 20″ screen with true 16:9 aspect ratio, X-black technology and double lamp illumination, with a nippy 2.8GHz Pentium D 820 processor powering the PC.
Graphics are taken care of courtesy of an ATI Mobility Radeon X700 with 128MB RAM, with the integrated TV tuner offering both analogue and digital channels, with built in Freeview.
Running on Microsoft Windows XP Media Centre Edition, there's a high capacity 250GB hard drive inside and a dual layer DVD DVD±RW rewriter, capable of recording up to four hours of DVD-quality TV in one go.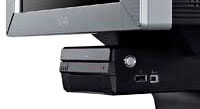 High definition audio is provided by Sony's Direct Stream Digital (DSD), a technology developed by Sony in conjunction with Philips.
Despite its all-in construction, some expandability options are provided with space for a second hard disk and slots for more RAM.
In line with its home entertainment pretensions, the machine includes a wireless keyboard with built in touchpad, a wireless mouse and remote control.And to keep things neat and tidy, the whole caboodle uses a single plug. Nice.
Full details, comprehensive specs and product photos are (as you can see) somewhat thin on the ground as we went to press, but we've heard that the Sony VA1 should be available from February, priced at around £1,500 ($2,620, €2.185).