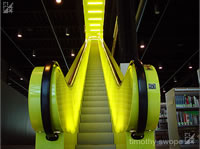 Seven branches of the already-wireless central Seattle library are going WiFi. The announcement focuses on warnings that "no technical help is available" – but further South, in the San Francisco Bay area, the Joint Venture Silicon Valley organisation is planning to cover 1,500 square miles with 802.11 signals. What happens when such projects collide?
According to Glenn Fleishman the Joint Venture group has yet to reveal any details – it hasn't even officially announced anything on its own web site – but is organising a lobbying effort to local communities.
The group, headed by Intel, seems to be focusing on mobile, according to a local paper report, says Fleishman. That raises the real question of what the technical platform will be, because while Intel has done some work on mobile WiFi, it is spending a lot of effort planning for mobile WiMax – a confusingly similar technology, which has yet to be defined by the IEEE.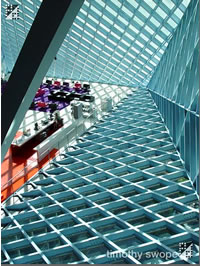 Neither report, it seems, is talking of the inevitable spectrum conflict looming as domestic WiFi proliferates, and City WiFi spreads through the same areas.
The issue is discussed by ABI Research's senior analyst of wireless connectivity research, Philip Solis, who points out that the Qualcomm-Flarion merger has gone through, providing WiMAX with a possible competitor in 802.20.
Solis has contributed to a recent paper from the company on the status of WiMAX, now that the WiMAX Forum has announced that some suppliers have put equipment for WiMAX certification for 802.16-2004, and passed.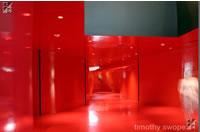 "There is a long queue of companies waiting to undergo the same certification process. Then, they can proceed to 'wave 2', covering security and quality-of-service, and when they too are certified, we can expect to see larger numbers of products actually reaching the market," was one comment.  But Solis added:
"The picture is complicated, however, by a resurgence of rival wireless broadband access technology 802.20, based on frequency-division duplex technology developed by Flarion. With the closing last week of Qualcomm's acquisition of Flarion, 802.20 may get a new lease on life. Qualcomm will almost certainly attempt to rally support from other industry participants, but many companies had abandoned 802.20 to support 802.16e."
–The photos illustrating this article are fantastic shots taken by Timothy Swope at pixelmap – clearly a man with a strong eye, and it's well worth looking at the rest of the shots. The building? The stunning new Seattle library, designed by Rem Koolhaas.
Guy Kewney write extensively, and quite brilliantly, in lots of places, including NewsWireless.net