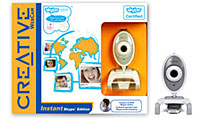 Tying in nicely with Skype's new video calling feature (Skype 2.0, now in public beta), Creative have announced a new WebCam certified by Skype.
Regaling under the moniker of the Creative WebCam Instant Skype Edition, the package comes with a personal headset with microphone, software, and a stand-alone microphone if several people want to join in with the chat.
Bundled in the box is a free voucher for up to 30 minutes of SkypeOut, no doubt to tempt buyers to keep on buying time on Skype's PC-to-landline or mobile phone calling service.
"Skype seeks to revolutionise the way everyone communicates using the Internet via chat, voice and now with video by making it simple. Creative shares that vision," said James Bilefield, vice president of business development for Skype.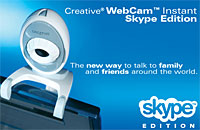 "Our partnership with Creative is important in helping to make the consumer experience with Skype Video calling simple and effective," he continued.
Jean-Marc Dupuis, Joint-General Manager of Creative Labs Europe felt that the simplicity of Skype's new service would generate huge interest in video calling, adding, "Making phone calls over the Internet is the new wave in communications."
Webcam sales have been soaring in recent years, with European sales growing by over 139 percent in the past two years.
The new Skype-certified WebCam looks much the same as any other webcam (let's face it, they're never much to look at) and features an advanced CMOS sensor capable of capturing video at 352×288 at 30 frames per second.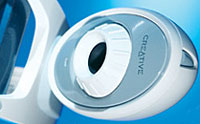 There's also a 'snapshot button' for taking low res stills at 640×480 via interpolation (in other words, it's a smaller image artificially blown up, so don't expect anything near digicam quality).
The little fella comes with a plastic stand which can be attached to flat panel and notebook displays and a "comprehensive software bundle" for image editing and management.
TECH STUFF:
Technical Specifications352x288 (CIF) CMOS sensorVideo Capture at up to 352x288USB 1.1 connection
System RequirementsIntel Pentium II or AMD Athlon processor running at 400MHz or higherWindows 2000, or XP128MB RAM100MB free disk space (excluding third party software installation)