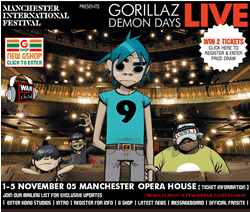 Exclusive animated footage from Gorillaz Demon Days Live in Manchester will be available 'on demand' via the red button on digital television for seven days, courtesy of BBC Radio 1.
This is the first time Radio 1 has delivered visual content on demand for TV and takes the BBC's plans to visualise radio up a gear.
The ground-breaking initiative means viewers with digital satellite, cable and Freeview can enjoy audio and animated visuals from the gig at the push of the red button for a week after transmission.
Radio 1 will broadcast audio from Friday's on Lamacq Live from 9pm on Monday, November 7. From 11.30pm the same night, the station will make visuals and audio of the event available from all BBC TV channels (via digital TV) and online at bbc.co.uk/radio1. Freeview viewers will be able to press red from Radio 1.
Gorillaz Demon Days Live is a trailblazing event for the Manchester International Festival, the world's first commissioning arts festival which kicks off in 2007. Jamie Hewlett – co-creator of Gorillaz visual identity – is producing exclusive visuals for the evening.
Daniel Heaf, Radio 1's Interactive Editor said; "Radio 1 knows how important visualisation is for its young listeners. This collaboration with Gorillaz Demon Days Live demonstrates how the station can provide world class music content across multiple platforms."

Dan Duncombe, Digital Media Manager at Parlophone, comments, "Giving fans the ability to access content across a number of digital platforms is a key part of the Manchester events. These shows are groundbreaking and working with Radio 1 has allowed us to take this further in terms of reach as well as interactivity. Gorillaz fans throughout the world can access and interact with this exclusive audio and visual content, making it a truly global and multi platform event."
Gorillaz Demon Days Live sees the musical collaborators behind smash hit album Demon Days brought together for the first time ever, to recreate the album over five remarkable and unrepeatable evenings; it's also the first time Radio 1 audiences can receive on demand visual content on digital television (DTV).
People can listen to Radio 1 – and any other BBC radio station – via DTV. Recent research shows nearly 10 million people in the U.K. listen to radio via DTV every week (RAJAR Q3 2005).
This initiative uses the thinking behind the BBC Radio Player – which allows people to listen to BBC Radio programmes via the Internet for a week after transmission – to give DTV listeners more control.
BBC Radio 1 can be found on Freeview, Sky Digital, NTL and Telewest.