Eniro, the Swedish equivalent of Yellow pages and the phone directory have integrated the Skype URL, callto:, in to their online directories.
This boon for Skype users, gives browsers the ability to simply click on the targets details to use Skype to open a voice call with them.
Currently the only examples we could find used 'normal' phone number, so clicking on them connects your Skype to their phone number, using your SkypeOut minutes – much to the joy of Skype we'd assume.
MSN and ICQ ID can also be listed, but these don't have the same simple click to use functions.

"It's important for us to add all types of contact information and that makesadding Skype to that logical", says Cecilia Geijer-Haeggström, VP ofproducts and market at Eniro.
This is currently only available for contacting individuals, but it is planned to offer the same through Yellow Pages for companies.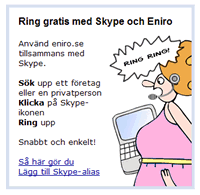 We also understand that they'll be printing the Skype ID's in the printed directories for a small fee.
Many phone directories are owned by the countries incumbent telco, making it highly unlikely that they would offer similar services, as it 'steals' call revenue out of the pocket of their telco owners.
The Swedes are as high tech as you like, but we suspect that the fact that Skype CEO, Niklas Zennstrom is from Sweden somewhat smoothed this deal.