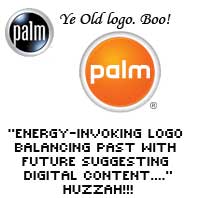 palmOne transmogrifies into Palm, Inc today, following an announcement on May 24 that the company had acquired unencumbered rights to the Palm brand after buying out the share of the brand formerly controlled by PalmSource, Inc.
"I'm confident we'll build our momentum even faster now that we can use the same term consumers and business people have always used for our products – PALM," frothed Ed Colligan, Palm president and CEO.
"And while a lot has changed – our name, ticker, logo and headquarters – our vision remains the same. We believe the future of personal computing is 'mobile computing,' and we aim to deliver superior hardware and software solutions so that we can continue to set the bar in the industry."
Clearly dizzy after overdoing the double Caramel Macchiatos, Palm talks lovingly about its new logo, claiming that it "builds upon the strong brand equity already established in the former blue Palm circular medallion, but the updated typeface suggests the trend toward digital content and an orange gradated background evokes energy."
Page Murray, Palm vice president of marketing, was also in a state of ecstasy over the new design: "Our new logo takes advantage of the high brand awareness we've built over time through award-winning and commercially successful handheld computers and smartphones,"
Getting carried away on a wave of hyperbole, Murray waxed lyrical about the new logo: "It balances the past with the future, and signals to customers that they can expect to see a lot more of the name 'Palm' going forward in exciting mobile-computing products."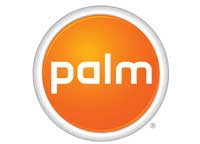 Palm have a bit of a history with faffing about with their name. palmOne was created in October 2003 when the earlier Palm, Inc. spun off PalmSource and acquired Handspring, Inc.
The Palm brand was then shared between palmOne and PalmSource, but Palm claim that customers have come to identify the name Palm more with physical products than with the operating system that powers it.
We wish that they'd spend less time messing about with pretty logo redesigns, and got around to doing something useful – like creating the Wi-Fi drivers for the Treo phone promised months ago.
We wrote to them two months ago asking for a Palm Treo 650 to review and for information about the Wi-Fi drivers.
We're still waiting for a reply.