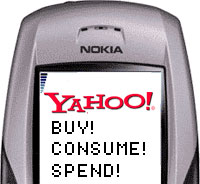 Buying goods with your PC may soon be as hip as dancing to a Chris De Burgh remix if the latest innovation from Yahoo Japan takes off.
Yesterday, the company opened a version of its shopping portal for cell phone Internet users, called Mobile Yahoo Shopping, allowing perambulating phone users to purchase products as they promenade around the place.
The service can be accessed from all three of Japan's major wireless Internet services and brings together about 2,000 merchants, collectively offering up an estimated 2 million consumer-tempting items for sale.
Trying to squeeze all that info onto a teensy weensy screen might be a problem, so the portal uses a mobile optimised version of its PC shopping site, with cell phone users able to search for individual items or browse for goods and retailers by category.
Online shopping from PCs is already huge in Japan, but shopping from mobile devices is yet to really take off – a recent Japanese government survey revealed that 89 percent of respondents shopped online with their PCs, but only a miserly 18 per cent used their cell phones for shopping online.
Not surprisingly, the respondents complained of lower satisfaction levels with mobile shopping, citing ease of use and security amongst the biggest complaints.