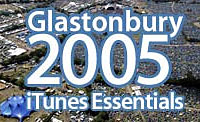 Apple is elbowing its corporate presence onto Glastonbury Festival with a launch at world famous music event later this week, according to a report in MacWorld.
Details are nearly as scarce as festival tickets, but the site cites third-party reports suggesting that all will be revealed on Friday, June 24 at the East Dance stage, where the first act up listed in the official Glastonbury Festival website is called, "iTunes present…"

This will feature winners of a competition run between iTunes and Hit40UK which asked budding musos to create a five-song iMix of tracks they felt appropriate for kick-starting the Dance stage this year.
The competition page ran the blurb: "Runners-up will also bag themselves some great iTunes Glastonbury Essentials cards which get them 75 tracks of the hottest Glastonbury tunes on the iTunes Music Store". Apple's Glastonbury Essentials compilation was listed as being worth £19.75 (~€30, ~US$36).
MacWorld mulls over the suggestion that these iTunes "Essentials cards" could auger an extension of Apple's existing band promo cards.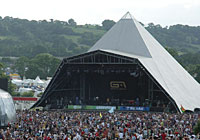 These take the form of fan-tempting collectible iTunes cards stuffed full of band-specific artwork and special codes that let mustard-keen fans download tracks from a specific artist or album.
These cards have previously been used as tickets to events like Apple's "Live from London".
Naturally, we'll be at Glastonbury trying to get our hands on some of these "Essential cards", but with thousands of more interesting non-corporate offerings on display, we can't promise that we won't get hopelessly sidetracked at the world's greatest festival.