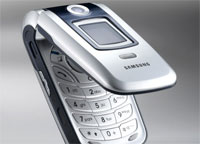 The mobile world domination plans by the white cat-stroking mastermind at Samsung continues apace with the news of yet another new phone from the Korean giants.
Hell bent on filling every pocket on the planet with their products, the prolific phone producer has sent out swarms of smart phones, 3G phones, swivel phones, slider phones and MP3 phones.
With a strategy dictating that every possible consumer should find something for them in their colossal products range, Samsung's scientists were quickly despatched to their laboratories after someone spotted a niche unfulfilled: the 3G music phone!
Immediately, great brains went to work and before long the new flip-tastic SGH-Z300 was born.
Seen at CeBIT 2005 earlier this year, Samsung have announced a June release date for their SGH-Z300 phone, described as a "classically designed, clamshell handset with a range of music, camera and video features."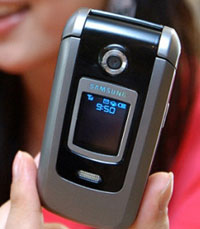 Petite in size yet delivering a surprisingly hefty sonic whack, Samsung's wee 3G phone incorporates dual stereo speakers for its MP3/AAC/AAC+ audio player, with a healthy 50MB of internal memory for song storage.
The 89 x 47 x 26 mm handset sports a sizeable 262K colour TFT Samsung screen with the whole caboodle weighing in at a handbag-untroubling 110g.
Because Da Kidz are, like, down with multimedia, Samsung have kitted the handset out with dual lenses – one 1.3 Megapixel and the other 0.3 Megapixel – offering video calls, still photography and video recording.
User reports say that the viewfinder isn't exactly the fastest kid on the block, but it seems an acceptable compromise considering the wealth of functionality on offer.
The comfortably large keyboard glows with a de rigueur blue backlight, and there's an intuitive circular navipad above the number keys.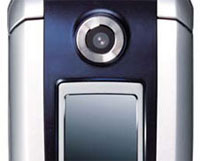 Basic Web browsing is taken care of with a WAP 2.0-enabled micro-browser also present, and the handset offers support for J2ME MIDP 2.0.
Samsung earn a big gold star for using a mini USB connector (instead of the usual proprietary solution that comes with most handsets), but this is quickly ripped out of the book and replaced with a silver star for their decision to use the highly unpopular TransFlash memory card format.
The SGH-Z300 is due out this June in Europe, and will offer GSM tri-band 900/1800/1900 MHz and WCDMA 2100 MHz connectivity.
Pricing has yet to be announced.