Summary
While they are expensive, if you want excellent sound reproduction, noise isolation and good looks, these fit the bill.
| | |
| --- | --- |
| UK Street Price | £190.00 |
| UK Amazon Price | £157.58 |
| US Amazon Price | $299.00 |
| UK PriceGrabber | |
| US PriceGrabber | |
Review
Shure have just released their E4c earphones. These are the in-ear type with various mouldings (sleeves) that fit on to the actual phones so you can get a comfortable fit.
There are four types of sleeves, a soft rubber one (that seems to work well) in 3 sizes, a medium rubber one, and a triple flange type (which probably gives the best seal, but you need a biggish ear canal – these would be more suited to studio work) and some foam rubber ones that mould to the canal (compress them [squeeze] before you put them in the ear, and they'll expand to fit). The foam ones are pretty comfortable, but don't quite seal as well and maybe more suited to flights or situations where you're likely to wear them for a while.
Since they are in-ear phones, you'll either get on with them or not, it depends whether you enjoy things stuck in your ear!
They are slightly fatter than the older E3c phones and though Shure have retained the white colour for the bulk of the barrel, the last section (just before the sleeve) is steel (or metal). They look much better and feel more chunky without being too heavy.
Looks aren't everything
Of course the main reason for buying earphones is for the sound. The E4c's do superbly and it seems that bass, midrange and treble have all improved. A big advantage of using in-earphones is that they block off almost all external sound (which can be detrimental to your health if you use them in a situation where you need to hear things going around you). Not being distracted by external noise means the volume of the device you're listening to can be turned down, which has two advantages i) battery life is extended and ii) more importantly, there is less distortion and notes sound truer.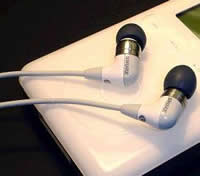 While sitting on the underground you could just hear the station announcements on the public address system, but not much else. The music playing was ambient dance music and you could really make out the nuances etc. Unfortunately the only downside of blotting out everything made you realise even more how miserable everyone looked.
Looks aren't cheap
The retail price of the earphones is over £200 (~US$370 ~€293), which is a lot, however if you listen to music all the time and you're sensible and use them at a low-ish volume, you'll both appreciate the sound and save your hearing. There are times when they could be invaluable, such as when you're in noisy surroundings, or using them in a studio.
The packaging has been improved, they come with a selection of sleeves (more can be ordered as well as custom fitted sleeves), replacement inner parts (which can become clogged with wax and become damaged), a wax remover (for the inner part – not your ear), a volume control (which is a separate piece, so you don't have to use Shure's, if you're using it with say an iPod remote), a nylon case to carry the lot in and a mini to big jack adapter.
The only part which lets the units down is the cable itself, which looks and feels a bit flimsy.
Summary
While they are expensive, if you want excellent sound reproduction, noise isolation and good looks, these fit the bill.
Score – 5/5



We've done a deal with PriceGrabber to offer the readers of our reviews the chance to buy the reviewed item directly. We will get a small payment each time a link is clicked on.
UK Suppliers

US Suppliers