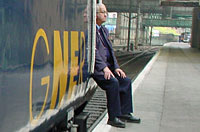 A UK train operator has claimed that its passengers will be able to wirelessly access the Internet on all its trains by May 2007 after widespread passenger take-up of the service.
As we reported in April 2004, the East coast rail firm GNER had already committed to rolling out Wi-Fi access to all 302 carriages of its Mark 4 fleet, but after successful trials has pledged to wire up the entire fleet.
The company reports that take-up of Wi-Fi in first class rose by almost fifty per cent within five months of its tenth train entering service, while in standard class usage figures increased by 54 per cent in the same period.
The company plans to have every train fitted by May 2007, offering first class passengers the service for free, while serfs in standard class will have to pay to shell out a minimum of £2.95 (€4.33, US$5.55) for 30 minutes.
The on-train Wi-Fi network connects to the Internet via a satellite link up, with the network dropping back to a GPRS connection when the train thunders through a tunnel.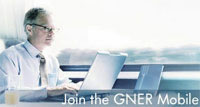 GNER's chief operating officer Jonathan Metcalfe enthused about onboard Wi-Fi, claiming that it would make the travelling experience "more enjoyable" for consumers and that it would "encourage more people to choose rail instead of driving or flying."
Wi-Fi access on trains looks to become ubiquitous in the UK, with several train companies already offering – or in the process of offering – access to laptop-flipping passengers craving connectivity.
Travellers on the London to Brighton route (run by Southern Trains) can already enjoy Wi-Fi access, courtesy of a WiMax network running alongside the tracks, and the National Express Group has announced plans to install wireless access on trains run by at least three of its operating companies.