Despite being judged the fourth most digitally-savvy nation in Europe, it seems that 40% of the UK adult population don't know their wi-fi from their waffles.
Research carried out by Freedom2Surf revealed that half of all women and one quarter of all men didn't have the slightest clue what WiFi was, exposing a very strong gender, knowledge and awareness gap in the UK.
Not surprisingly, the kids were waaay down with that WiFi thang, with Freedom2Surf's WiFi Report revealing that the 16-24yr old age group were well hip to the technology, with almost 30% connecting to the Internet via a WiFi hotspot more than once a week.
Looking at the amount of time people spent connected via WiFi, the report found that 40% of regular users spend 10 minutes a day on average connected to a hotspot, while a further 40% spend at least an hour in a single session.
Around 10 per cent of users surveyed connect three to four times a day for at least 20 minutes at a time.
The research discovered that WiFi usage is set to increase, with over a third (35%) saying that they expected to spend more time wirelessly connected in the coming year.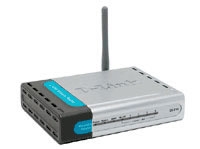 A smaller group (15%) expected their usage to increase dramatically in 2005, with the 16-24yr age group expected to increase its usage the most (52%) compared to 34 per cent of the 35-44 age group.
The biggest barrier preventing UK consumers connecting to hotspots was found to be the lack of regular access to a Wi-Fi enabled laptop (40%).
Cost was also perceived as a major factor, with 30% citing price as the biggest barrier.
Greater uptake has also been hampered by consumers expressing bafflement as to where hotspots are actually located along with the perceived complexity of set-up and payment for WiFi hotspot services.
Silver surfers (UK consumers aged 55+) were revealed as being the weakest Wi-Fi user group, with just 11 per cent of the old 'uns having used a hotspot.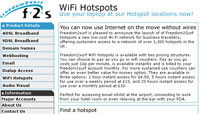 Geographically, London takes the honours as the King WiFi hotspot of the UK with a higher awareness and usage of WiFi (hardly surprising since there are more hotspots in London than anywhere else in the UK) whilst residents oop North in Yorkshire are the least Wi-Fi savvy.
Naturally, ISPs like Freedom2Surf don't do surveys out of the goodness of their hearts, and predictably rounded off their report with a ten-ton size plug for their new low-cost Wi-Fi service, Freedom2Surf Hotspots.
The company will be partnering with BT Openzone to offer customers access to a network of 1,300 hotspots in the UK, with rates claimed to be "up to 50% lower than those offered by BT."
These prices work out at 10p (€0.14/US$0.18) per minute (occasional use), £4.50 (€6.60/US$8.5)for a daily voucher (60 Minutes), £15 (€22/US$28) for a weekly voucher (5 hours) and £30 (€44/US$56) for a monthly voucher (20 hours). Payment can be bought on a Pay as You Go basis by purchasing vouchers with a credit card.
Compared to our American counterparts, these prices still seem outrageously steep to us, but Chris Panayis, managing director of Freedom2Surf, clearly doesn't agree: "The use of WiFi hotspots is becoming increasingly mainstream particularly among the younger age group, and it is encouraging that many of the consumers we surveyed are planning to significantly increase their use of WiFi this year.
"With service providers like Freedom2Surf already acting to reduce the cost and complexity of connecting to WiFi hotspots, the next challenge for the industry is to boost awareness of where hotspots are located and continue to educate consumers on the flexibility that WiFi hotspots provide people who need to connect to the Internet on the move."