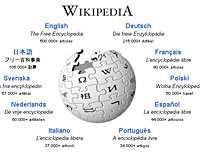 Yahoo's search engine division has announced that it will be dishing out hardware galore, resources and "critical material aid" to support the non-profit Wikipedia online encyclopedia.
Yahoo Search's contribution is the most significant received by Wikimedia from a corporate sponsor to date, costed at "several hundred thousand dollars," by David Mandelbrot, Yahoo's vice president of search content.
Wikipedia is a global charitable effort, to create and give away a freely licensed encyclopedia in every language of the world.
In just four years, the non profit Wikimedia Foundation has created the largest English language encyclopedia in history, supported by substantial encyclopedias in French, German, and Japanese with "strong efforts underway" in over 100 other languages.
Much like Google's new Q&A service, Yahoo Search will also feature abstracts of Wikipedia content at the top of relevant search results in the form of "shortcuts," containing factual information or links to factual information.
Yahoo's shortcuts are intended to give users the answer they're looking for on the search results page, saving them the bother of clicking onto other Web sites for the desired information.
Yahoo's support comes completely free of charge and they will in no way benefit from the positive world-wide publicity or continuing access to Wikipedia content. No sir.
To the strains of "We Are The World" serenading in the background, Mandelbrot explained Yahoo's generosity, "To operate a site that reaches as many people as Wikipedia can be costly for a non profit, and we're contributing with resources to help with that effort."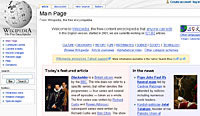 "Their popularity is growing very fast and, accordingly, their bandwidth and hardware needs have increased substantially."
Jimmy Wales, Wikimedia's president, was naturally well chuffed with the announcement; "Our growth in Web traffic continues to be staggering, doubling every few months. Yahoo's generous donation to our cause in the form of servers, hosting and bandwidth will have a huge impact on our ability to get our message of sharing knowledge out to the world."
In a separate statement from Wikimedia, the charity revealed that Yahoo will also be dedicating "a significant number of servers" in a Yahoo facility in Asia.
Yahoo's profits tripled from $65.3 million (£34.9m/€50.9m) to $253.3 million (£135.4m/€198m) last year.