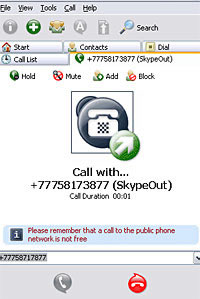 An updated version of the hugely popular Voice-over-IP (VoIP) application Skype has been released.
The skinflint's phone application of choice, Skype for Windows v 1.2 includes a host of tweaks and new features including a centralised Contact list option and a 'Getting Started Wizard' that eases the pain of making that first freebie call.
The program is now able to instantly import contacts from other desktop services and applications such as MS Outlook, Outlook Express, MSN Messenger, and Opera Internet-browser.
"The latest Skype software for Windows builds on previous versions and takes Skype portability, ubiquity and quality to a new standard for modern communications," enthused and backslapped Niklas Zennström, Skype CEO and co-founder. "We are grateful for the user input that helped shape this latest version, and applaud the Skype development team for the excellence."
Skype have aimed to make the program less daunting to new users, with a new 'Getting Started Wizard' appearing up on start-up, ready and willing to handhold new users into the magical world of free Internet calls.
The wizard acts as a one-click launch pad to Skype's frequently-used functions, such as importing contacts, searching Skype's global user directory, editing personal profiles, configuring privacy settings, making test calls and accessing online help.
Another notable improvement is the centralised contact list. Whereas user's contact lists were previously stored on the user's home machine, it now resides on an Internet server, accessible over the Web from any Internet-enabled device.
Users can now also initiate multiple file transfers, play around with updated sounds and fiddle about with a feast of additional customisable settings. Skype continues to provide Instant Messaging-style chat, conference calling for up to 5 participants and cross-platform communications.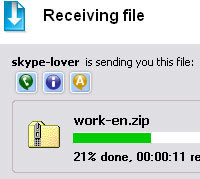 The soaraway Luxembourg-based company has so far signed up 29 million registered users for its free peer-to-peer based Net phone calling, making it one of the fastest-growing services on the Net.
Customers have – not surprisingly – flocked to sign up to Skype to enjoy VoIP free calls, and the company is now looking to squeeze some cash out of the hordes of freeloaders by offering attractive, paid-for 'bolt on' services.
This forms part of Skype's strategy to make its Net-only product significantly more useful to consumers and potentially a mean competitor to traditional phone providers.
Skype is currently the leading Internet telephony product worldwide, with more than 31.4 million registered users, a figure that the company claims is growing by more than 160,000 new users per day.
We love it!