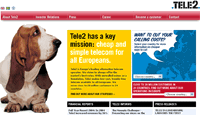 European telco AB has announced that it's launched the first worldwide free TV station available on 3G mobile phones, via its own TV channel Tango.TV (TTV).
Describing themselves as the "leading alternative pan-European telecommunications company" (have they got, like, cray-zee hairstyles and listen to The White Stripes all day?), the TV station is a product of their development centre located in Luxembourg.
The centre is in charge of applying the company's convergence strategy and has also created an Internet radio, the painfully cheesy-sounding Sunshine Radio, also available on 3G phones.
The streams are available to any customer looking for some full-on AOR action from the new wap portal T.TVMobile.
We gave the channel a listen via the Web and weren't impressed. The Dad-friendly soft rock was bad enough, but the dire tunes were rendered even more unlistenable by the stream jumping around like a hyperactive flea on amyl nitrate.

We couldn't work out if this was supposed to be the 3G TV station or not, but after five minutes of looking at a blank screen on our desktop media player, we gave up waiting.
Lars-Johan Jarnheimer, CEO of Tele2 said; "With the launch of this TV over 3G service, Tele2 is showing that it is at the leading edge of mobile technological developments. We look forward to monitoring the development of this service in Luxembourg to learn about customer behaviour, which we can apply later to our other mobile markets".
There's no doubt that mobile TV and radio has a strong future, but this venture strikes me as being more of a publicity stunt than anything. And seeing as I'm writing about it, I guess it's worked too. Doh! Outwitted again!