Announced at the CeBIT tradeshow, Pretec have introduced a new memory card format for smartphones, called the C-Flash cards.
Created as a rival to SanDisk's TransFlash format, these fellas are absolutely tiny, with diminutive dimensions of just 0.7 inches by 0.5 inches by 0.04 inches (17 mm by 12 mm by 1.0 mm) – making them about the third of the volume of RS-MMC or miniSD cards.
Pretec C-Flash Cards will have support for SD/MMC and USB, and Pretec will also offer various adapters for C-Flash such as SD, miniSD, MMC, RS-MMC and USB.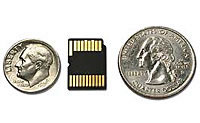 This format will also have support for MU-Card, a specification from China lead by Mu-Card Alliance. C-Flash has been adopted as the next small form factor version of MU-Card (called MU-Flash).
Coming with built-in smart card (SIM card) support, these Lilliputian cards require less space for their memory card slots than rival formats – so could contribute to even smaller phones.
The trouble is, with a card this small, we could easily see it disappearing behind the back of the sofa, under a beer mat or being swallowed by the family guinea pig. And does the world really need yet another Memory Card Format?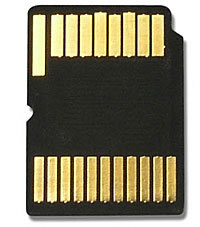 C-Flash has also been submitted to the MMC Association to be considered as the next small form factor standard of MMC.
Pretec is currently sampling 128 MB C-Flash cards to major mobile phone makers, and 1 GB cards are expected to be available by the second quarter of this year. Mobile phones with C-Flash slots will be in the market this summer.